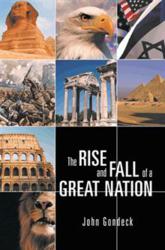 Denton, MD (PRWEB) December 03, 2012
America is traveling down a dangerous path, says author John Gondeck.
In his new book, The Rise and Fall of a Great Nation, he offers a review of the development and current state of America by reflecting on the decisions of other nations.
The book analyzes nations like Egypt, the Roman Empire, the British Empire and the 13 American colonies. It also discusses slavery, world wars, society, economics national debt and numerous American presidents.
"We need to change our course and do a 180-degree turn," says Gondeck. "We must go back to our foundational roots or we as a nation will no longer be great."
Gondeck hopes his book will connect to readers who strive to learn more about the past and present state of politics and history in America.
"The people of America needed to hear the truth about our country's direction before we make another mistake," Gondeck says.
Ultimately, The Rise and Fall of a Great Nation is a thought-provoking collection that encourages internal and external review.
The Rise and Fall of a Great Nation
By: John Gondeck
ISB: 987-1-46694-574-6 softcover, 978-1-46694-573-9 hardcover
Softcover $15.00, Hardcover $25.00
Available at amazon.com, barnesandnoble.com and trafford.com.
About the author
John Gondeck's passion for history and politics of nations around the world drove him to pen The Rise and Fall of a Great Nation. His research regarding the men who made America the country it is today inspired him to reexamine the current state of America and its politics today. Gondeck currently lives in Denton, Maryland.
# # #