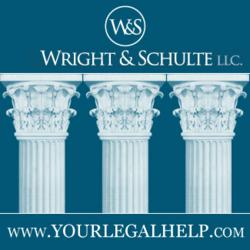 Wright & Schulte LLC, is dedicated to helping those injured by Skechers Shape-Ups receive the compensation they deserve. Call 800-399-0795 or visit www.yourlegalhelp.com today for a FREE consultation!
Columbus, OH (PRWEB) December 02, 2012
The experienced product liability and personal injury lawyers at Wright & Schulte, LLC have filed a Skechers lawsuit on behalf of a woman from Albuquerque, New Mexico who broke two bones in her left ankle and required surgery allegedly as a result of wearing Skechers Shape-Ups. Court documents for the case (Case No. 3:12-cv-00632-TBR), which was filed on October 4, 2012 in the United States District Court of the Western District of Kentucky, Louisville Division (MDL 2308), name Skechers, U.S.A., Inc., Skechers, U.S.A., Inc., II and Skechers Fitness Group as the Defendants.
Wright & Schulte, LLC is a nationally recognized law firm that specializes in defending the rights of those who have sustained serious injuries after using defective products. Our skilled Skechers attorneys are experienced at successfully going up against large corporations, and we encourage those who believe they have been injured due to use of Skechers toning shoes to speak with our knowledgeable Skechers lawyers by visiting yourlegalhelp.com or by calling 1-800-399-0795.
According to the complaint, the plaintiff purchased Skechers Shape-Ups in or about July 2009 from Macy's in Albuquerque, NM after being swayed by advertising for these toning shoes. Advertisements for Skechers Shape-Ups claimed that those who wore these shoes could lose weight without going to the gym, could burn more calories while walking and could improve the tone of their leg, abdominal and buttocks muscles. Soon after buying Skechers toning shoes, the plaintiff began wearing them while performing her day-to-day activities.
Court documents go on to state that, on October 10, 2009, the plaintiff was wearing Skecher's Shape-Ups while walking on a flat surface; suddenly, one of the shoes rotated inwards, causing the plaintiff's left ankle to buckle and her to fall, both of which resulted in excruciating pain. The plaintiff sought treatment at the Albuquerque VA Hospital, where x-rays revealed that she had fractured two bones in her left ankle (the fibula and medial malleolus).
On October 26, 2009, the plaintiff underwent surgery conducted at the Albuquerque VA Hospital; during the procedure, plates and screws were implanted in the plaintiff's left ankle. Following her surgery, the plaintiff was forced to use a wheelchair and then a walker in an effort to keep weight off her left ankle and foot; in March and April 2010, the plaintiff underwent physical therapy in Albuquerque, NM.
In addition to attributing the plaintiff's ankle injuries to use of Skechers toning shoes, the complaint also alleges that Skechers intentionally misrepresented the benefits of these shoes in its advertising while failing to alert the public about the risks of using these rolling-bottom shoes, which are inherently unstable. Specifically, court documents cite an independent study conducted by the American Council on Exercise (ACE) at the University of Wisconsin. This study, which was focused on analyzing whether toning shoes have additional health benefits, found that, "there is simply no evidence to support the claims that these shoes will help wearers exercise more intensely, burn more calories or improve muscle strength and tone." (http://www.acefitness.org/getfit/studies/toningshoes072010.pdf)
About Wright & Schulte LLC
Wright & Schulte LLC, a leading personal injury firm, is dedicated to the belief that America's legal system should work for the people. Every day, the attorneys of Wright & Schulte LLC stand up for the rights of people who have been injured or wronged and fight tirelessly to ensure that even the world's most powerful corporations take responsibility for their actions. If you're looking for a law firm that will guarantee the aggressive and personal representation you deserve, please do not hesitate to contact Wright & Schulte LLC today. Free case evaluations are available through yourlegalhelp.com or by calling 1-800-399-0795.
Contact:
Wright & Schulte LLC
812 East National Road
Vandalia, Ohio 45377
1-800-399-0795
http://www.yourlegalhelp.com