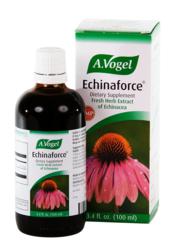 Echinaforce has been safely and effectively providing immune support for well over 50 years.
Ghent, NY (PRWEB) December 01, 2012
Professor Eccles, is one of the researchers who tested 755* healthy people to see if the use of an extract of echinacea root and herb was safe and effective in over a 4-month period. The randomized, double-blind, placebo-controlled clinical trial used Echinaforce®, an alcoholic extract of the leaves (95%) and roots (5%) of organically grown echinacea (Echinacea purpurea). (Echinaforce is made by Bioforce AG in Roggwil, Switzerland, and imported into the United States by Bioforce USA in Ghent, New York.) Professor Eccles states "It is not often we get such positive results. Plus, we found absolutely no difference between Echinaforce and placebo for safety." Bioforce appreciates this high praise from such a seasoned researcher of this caliber.
The study took place at the Common Cold Center at Cardiff University in Cardiff, Wales, of the United Kingdom. It is not only the largest Echinacea study, but also the first Echinacea Study to use viral analytics. Not only did the study show definite immune benefits, but it also showed Echinaforce to be very safe. This is consistent with the safety shown in previous Echinaforce studies, the documented general safety of many echinacea products in general use.
According to Pierce Sioussat, President of Bioforce USA "we are not surprised at these results as Echinaforce has been safely and effectively providing immune support for well over 50 years. This study is the 14th published study providing solid substantiation to the excellent results we have been seeing all these years. We are proud to call Echinaforce the World's Best Researched Echinacea."
For more information contact Eileen Sheets at 800-641-7555