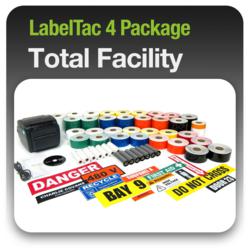 "We are 100% satisfied with the LabelTac 4 labeling system. The labels and signs printed are top quality and professional looking."
Lake Oswego, OR (PRWEB) December 04, 2012
In today's highly competitive market, businesses need to look for ways to reduce costs and improve productivity to become and sustain success. One simple way to reduce costs is by printing labels in house rather than outsourcing through a third party. Labeltac.com is now offering one of the best industrial label makers that will print any type of label as required by a company's need including both water and chemical resistant labels. The LabelTac 4 cost is easy on the budget for both small and large businesses and can produce labels at a fraction of the cost of pre-printed or outsourced labels. By properly marking bottles, containers and wall or floor areas will prevent unnecessary accidents and increase safety awareness in the workplace. By reducing downtime due to accidents will increase productivity and sales for the company.
The LabelTac 4 Printer Industrial Labeling System comes complete with software, cables, and one free black ribbon. It will print 1/2 inch to 4 inch wide and up to 40 inches long using die cut and pre-color header labels. Also included in the package are thousands of pre-made templates and symbols that will help get the printing started quickly and easily. The printer produces professional results when making labels for any type of safety program such as 5S, pipe marking, facility informational signs, and custom bumper stickers for marketing. Both indoor and outdoor labels and signs can be printed that are UV, chemical, weather, water, and wear resistant, and they won't fade or smear over time. A business owner commented, "We are 100% satisfied with the LabelTac 4 labeling system. The labels and signs printed are top quality and professional looking."
For more information about the LabelTac 4 Printer and label supplies, please visit http://www.labeltac.com/labeltac-4/ or call toll-free (866)777-1360 to speak with a professional representative who can answer all your questions.