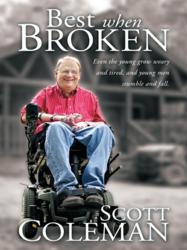 Memphis, Tennessee (PRWEB) December 03, 2012
A shattered spinal cord and broken neck.
These seven words capture the essence of the horrific event that occurred in the summer of 1980, when 17-year-old high school senior Scott Coleman's life changed in the blink of an eye.
After diving into shallow water while water skiing, he went from a normal teenage boy to a quadriplegic.
In his autobiography, Best When Broken, Coleman explains the truth of how he has overcome this tragedy with the help of family, friends, prayers and encouragement.
Dissecting his personal struggles, he discloses trials and errors, feelings of hopelessness and an abundance of triumphs.
"Writing this book has reminded me so vividly that there is abundant joyful living when you are surrounded by gracious loved ones," said Coleman.
By sharing his story, Coleman hopes to show others facing challenges situations in their own lives that it is possible to overcome anything.
"I do my best to live everyday counting my blessings and be mindful of how grateful I should be," said Coleman.
Best When Broken
By Scott Coleman
ISBN: 978-1-4497-5871-4, Softcover $13.95
Available at barnesandnoble.com, amazon.com and westbowpress.com.
About Scott Coleman
In the summer of 1980, Scott Coleman, a 17-year-old senior in high school, became a quadriplegic after a water skiing accident. After months in rehabilitation, Scott returned to high school and graduated the following spring. Four years later, he graduated from the University of Memphis with a degree in finance and economics. He is now an independent investment consultant in Olive Branch, Mississippi, where he lives with his wife of 26 years.