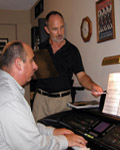 Tucson, Arizona (PRWEB) December 04, 2012
Dan Starr, a long term keyboard instructor, has begun a new radio show each week on a local talk station KVOI. The show airs each Sunday morning at 8:30 and lasts only a half-hour. Naturally Starr calls it "The Dan Starr Music Show." and repeats the message over and over:
"Folk of all ages can learn to do new things. Science has proven that learning to make music is possible for everyone and helps all ages. Society itself might be better off if more folks were enjoying making their favorite music. It's not very expensive. despite any conventional wisdom. There's a small cost for a cheap keyboard and some training to use it properly. Thus, there is some initial expenditure of time and money needed. However, this can be viewed as a challenge, something common to all great hobbies."
"Used to be that making music was just for children. However, science has now shown the value music production for all ages. There are numerous studies that show that older students can keep their hands supple and their brains working by learning to make their own music - and that the act of learning itself is very therapeutic."
"I myself have taught folks of all ages for the last 25 years and have seen how much sheet pleasure and joy that brings to them all. Actually, it's relatively easy to learn to play a keyboarded instrument (if it's taught right) and the student does their part. There is more info for the prospective student at my well-written website: danstarr.com."