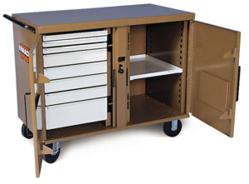 Crystal Lake, IL (PRWEB) December 03, 2012
KNAACK® STORAGEMASTER® Rolling Work Benches are super heavy-duty, professional-grade storage, coupled with convenient work surfaces for jobsites that require mobility.
KNAACK® Rolling Work Benches are offered in a complete range of sizes and load capacities, with 8 models to choose from. Models 45, 47, 49 and 63 (mechanic's tool chest) have 6" casters and 1,000 pound load capacities. Model 47 can also be customized with your choice of shelving and drawers.
Heavy Duty (HD) rolling work benches (Models 58 and 59) take up to 2,650 pounds while providing almost 10 square feet of work space. The KNAACK® WAR WAGON® Rolling Work Bench (Model 62) accommodates over 2.5 tons of payload with a generous 13 square feet of work surface, sitting on 8" casters.
"Our rolling work benches are found on commercial jobsites everywhere because of their durability, versatility, and security features," explains Jim Scarlata, Director of Marketing Operations for Knaack LLC.
KNAACK® STORAGEMASTER® Rolling Work Benches are available through a vast network of construction equipment dealers and distributors. For more information, visit http://www.Knaack.com.
###
About Knaack LLC
Knaack LLC, owned by Werner Co., manufactures and markets a complete line KNAACK® jobsite storage equipment, including storage chests, work stations, rolling work benches and hand tool boxes, as well as, WEATHER GUARD® truck and van equipment, including drawer units, shelving and cabinets, and racks for full size and compact pickups, vans and utility vehicles. For more information visit http://www.knaack.com and http://www.weatherguard.com.
About Werner Co.
Werner Co. is the world leader in the manufacturing and distribution of ladders, climbing equipment and ladder accessories under the Werner®, Green Bull®, Keller®, and other licensed brands. Werner also manufactures and sells a line of Fall Protection products and recently acquired Knaack LLC, the leading manufacturer of jobsite, truck and van storage equipment under the Knaack® and Weather Guard® brands. Backed by over 60 years of product innovation, Werner products are recognized for their durability, quality and safety. All Werner ladders and climbing equipment meet or exceed applicable Occupational Safety and Health Administration (OSHA) and American National Standards Institute (ANSI) codes and standards for strength and structural integrity. Werner is headquartered in Greenville, Pennsylvania. For more information, visit. For more information, visit http://www.wernerco.com.
For more information, please contact Knaack LLC, 420 E. Terra Cotta Avenue, Crystal Lake, IL 60014. Toll Free Phone: 800-456-7865. Web: http://www.Knaack.com, http://www.WeatherGuard.com. For media inquiries, please contact Heather Hawes at heather(at)ModernMarketingPartners(dot)com.
EDITOR's NOTE: Jpeg image attached, additional images available on request