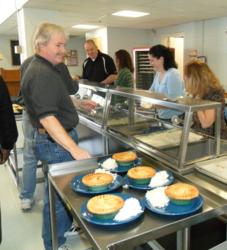 Paterson, New Jersey (PRWEB) December 03, 2012
On December 7th Eva's Village, New Jersey's most comprehensive anti-poverty organization, will welcome a volunteer team from BAE Systems facility in Wayne to serve the noon meal in its kitchen program. BAE Systems, a global defense and security company, provided a sponsorship to the "Fund-A-Meal" program to provide meals for community members in need. "BAE Systems is happy to be a part of programs, like Fund-A-Meal that address critical community needs," said Lu Goncalves-Getty, Director of Strategic Philanthropy for BAE Systems Electronic Systems sector, "We are grateful to have employees who are so generous in dedicating their time to worthwhile initiatives, such as Eva's Village."
The "Fund-A-Meal" program provides the opportunity for corporate teams to sponsor a meal in Eva's Kitchen and to serve the meal on the day of their sponsorship. "We have expanded our kitchen to accommodate the overwhelming numbers of people coming for a hot meal each day," commented Donna Marie Fico, Director of Marketing & Education. "We are in need of funding to provide the meals as well as volunteer teams to serve them, and this corporate team building effort answers those needs. BAE Systems participated in our teambuilding Bond, Boost and Build program in the past and their willingness to become a Fund-A-Meal sponsor signifies not only their support of Eva's, but also their commitment to corporate citizenship."
Eva's Village strives to feed a hot lunch to all that come to their door each day (365 days/year), serving more than 139,000 lunches/year. The soup kitchen program at Eva's Village, has experienced more than a 23% increase since 2007 and to date in 2012, has seen a 5.9% increase over last year, serving more than 400 people a day.
About Eva's Village
Founded by Msgr. Vincent E. Puma in 1982 as a response to the poor and homeless in Paterson, NJ, Eva's Village is a non-profit comprehensive social service organization with a mission to feed the hungry, shelter the homeless, treat the addicted and provide free medical and dental care to the poor. Through almost three decades of service, Eva's Village has established a unique record in facing community challenges and changing the lives of the hungry, homeless and addicted. It has grown from a simple soup kitchen to become the most respected anti-poverty program in New Jersey. Eva's Village now includes fourteen integrated programs housed in numerous buildings spanning several city blocks in Downtown Paterson.
About BAE Systems
The Electronic Systems sector, headquartered in Nashua, N.H., has operations spanning commercial and defense electronics markets and offers a broad portfolio of mission critical electronic systems from flight and engine controls to electronic warfare and night vision systems, surveillance and reconnaissance sensors, secure networked communications equipment, and power and energy management systems. The Electronic Systems sector employs approximately 13,000 people globally, with engineering and manufacturing primarily in the United States, United Kingdom, and Israel.Enter paragraph here.
For more information on the "Fund-A- Meal" Program, contact: Cyndi Roberson, Government & Community Relations Specialist– Phone: (973) 523-6220 Ext. 226 or email Cyndi.Roberson(at)evasvillage(dot)org.