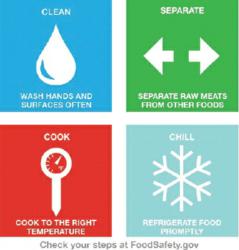 Washington, DC (PRWEB) December 10, 2012
One in six Americans will get sick from food poisoning this year. Food poisoning, or foodborne illness, is a serious public health threat in our country. The U.S. Centers for Disease Control and Prevention (CDC) estimates that 48 million people get food poisoning each year, resulting in roughly 128,000 hospitalizations and 3,000 deaths.
Foodborne illness can be caused by food contamination at many points in the farm-to-table chain, including when people fail to follow cooking instructions when preparing frozen or pre-prepared convenience foods. When it comes to these foods, there are simple guidelines people can follow to avoid getting sick from food poisoning.
The U.S. Department of Agriculture, (USDA), the U.S. Food and Drug Administration (FDA), the Partnership for Food Safety Education (PFSE), the International Food Information Council (IFIC), and organizations representing the convenience food and home appliance industries have launched the Cook It Safe! campaign. The "Cook It Safe!" campaign encourages cooks of all ages to read and follow food package cooking instructions to be sure food is fully and safely prepared before it is consumed to prevent food poisoning. The campaign also highlights the importance of knowing when to use a microwave or conventional oven, knowing your microwave wattage and always using a food thermometer to ensure a safe internal temperature.
One of the lead partners in the public education campaign is the USDA's Food Safety Inspection Service, which has developed three public service announcements featuring teenagers, a known target group for these types of illnesses, who are challenged to prepare convenience foods safely.
The first PSA shows the importance of reading and following package cooking instructions and knowing your microwave wattage. The second explains when to use a conventional oven or the microwave. A third PSA reminds consumers to follow package cooking instructions and use a food thermometer when grilling.
The PSAs will be distributed to 1,200 broadcast and cable stations, including 124 national networks, along with an outreach effort to reach young adults, particularly college and university students who often prepare food quickly without reading the cooking instructions or not cooking properly in microwave ovens.
The PSAs direct audiences to visit http://www.fsis.usda.gov where they can learn about food safety practices. For more food safety information, visit:
http://www.fsis.usda.gov/Education/Cook_It_Safe/index.asp
http://www.fightbac.org/about-us
http://www.fda.gov/
http://www.foodinsight.org/