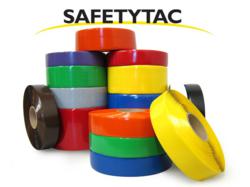 "After using SafetyTac tape, I will never go back to using paint for floor markings. The time and money saved by using floor tape is remarkable!"
Lake Oswego, OR (PRWEB) December 01, 2012
Many businesses across the nation are tired of using paint to mark off floor areas and aisles in manufacturing plants and office environments. Paint requires shutting down the area because of paint fumes and dry time for the paint to cure. Paint lines, over time, will start to chip away or get smeared by excessive forklifts, carts, trucks and foot traffic. By using paint, productivity decreases, costs increase and sales for the day decreases. More business owners are changing their method of floor marking from paint to a floor tape identified as SafetyTac Industrial Floor marking Tape. This is not just another vinyl tape but is made of high durable material that can withstand the harshest industrial work environment including forklifts and truck traffic. The strong rubber based adhesive will stick until it is time to come up. With the guarantee of 100% smear and scuff resistant "caution" striping tape, makes it ideal for alerting workers and visitors where to be cautious in the workplace.
Facilityfloormarking.com is now offering the #1 rated floor tape, SafetyTac, by teaming up with Safetytac.com, one of the top suppliers of safety products. With the highly engineered durable material of the floor tape, it can handle excessive forklift and industrial scrubbers in any manufacturing facility with wet or dry environments. SafetyTac tape comes in a variety of uses making it the perfect solution for providing safety in the workplace. From hazard printed tape to glow in the dark tape to arrows and footprints, the tape is functional for all kinds of safety markings. A plant supervisor commented, "After using SafetyTac tape, I will never go back to using paint for floor markings. The time and money saved by using floor tape is remarkable!"
For more information about floor marking tape, please visit http://www.facilityfloormarking.com/ or call toll-free (866)777-1360 to have all your questions answered by a professional representative.