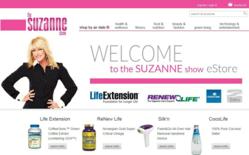 Seattle, WA (PRWEB) December 03, 2012
The SUZANNE Show e-store, online at shop.suzannetv.com, offers products that are featured on episodes of the show. Product categories found on the e-store include health & wellness, fitness, food & nutrition, beauty & fashion, green living, technology and entertainment. Brands available for the debut of the e-store include Life Extension supplements, Silk'n skin care products, CocoLife 100% pure coconut water and ReNew Life supplements.
According to Suzanne Somers, "The SUZANNE Show is 'me,' unplugged. My interests and my passions and honest talk, from new ways to achieve optimal health, to my friends, great foods, and important questions that others aren't asking. I'm mixing glamour and innovative science in a way that America's never seen before."
"We are delighted that this new e-store lets our audience shop for the products that they see on the SUZANNE Show." says Meta Chirchansky, Executive Vice-president of the show. "Working with DNA Response to create this e-store was effortless. They built the site and will do marketing to drive traffic to the site. They charge no fees for services, but take a share of the revenue that the e-store generates, so there is no risk for us."
Ranjit Mulgaonkar, CEO of DNA Response, says "The shop.suzannetv.com e-store is a good example of how we help clients increase revenue through multi-channel commerce. We are growing fast because our clients like the fact that they only pay us if we sell products for them."
About DNA Response
DNA Response, Inc. (DNA) provides turnkey multi-channel commerce, online marketing, order management and fulfillment services to product marketers. DNA generates incremental revenue for its clients by selling their products directly to consumers on online marketplaces, e-stores, direct response TV, home shopping networks, TV shows, big box retailer sites and deal sites. DNA provides universal order management for processing orders in real time from all the sales channels with full visibility to the business for the clients.