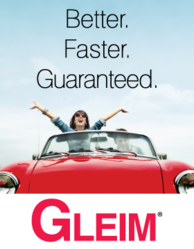 Candidates should use the 2013 edition for any CPA section they plan to take during the 2013 testing windows. Prepare with the assurance of knowing you have the most current material available.
Gainesville, FL (PRWEB) December 04, 2012
The 2013 edition of the CPA Review System is available today, December 3, 2012! The new edition includes improvements and changes based on valued customer feedback as well as content updates that reflect what will be tested in 2013 (per the AICPA's Content Specification Outlines for 2013). Candidates should use the 2013 edition for any CPA section they plan to take during the 2013 testing windows.
The new 2013 CPA Review System will also include a brand new feature: Gleim Test Prep Online. With Test Prep Online, more than 11,000 questions for all four sections can be accessed online anywhere, anytime. Gleim Test Prep Online will work on any mobile device or tablet, as well as standard PCs or Macs with Internet access.
If CPA candidates are worried about not doing well on the simulation testlets, the Gleim 2013 edition will eliminate many concerns. In the new Gleim CPA Review System, practice simulations are more difficult and interactive than before so that candidates will not be surprised by their simulation on test day. In addition, Gleim has reformatted many of the research questions to better mimic the way they are presented on the actual exam.
CPA Candidates can order the Gleim 2013 CPA Review System here.
Candidates who purchased the Gleim 2012 Review System* may qualify for product replacement at no additional cost (shipping costs for the new books do apply). Please call Gleim today to find out if you are able to take advantage of this feature.
Candidates should note that the Auditing and Attestation (AUD) section materials are being handled a little differently this year because of the Auditing Standard Board's clarified standards. Since the new standards will not be testable on the CPA exam until the July/August window, Gleim will be releasing a Q1-Q2 edition for those candidates sitting for AUD in the January/February or April/May window. Then we will release a Q3-Q4 edition that reflects the clarified standards for those candidates sitting for AUD in the July/August or October/November window.
The 2013 Gleim CPA Review System still includes all the great customer support candidates have come to expect from Gleim. Candidates will still have unlimited access to your very own Personal Counselor who can help you create study plans and answer exam questions. Further, the Gleim Technical Support team is always ready to assist candidates.
Finally, Gleim has a team of accounting experts who are available to answer CPA exam candidate questions on anything they find difficult within our materials.
Click here to try Study Unit One for free. All CPA candidates have to do is set up an account, which is also free!
Good luck in 2013,
Team Gleim
800.874.5346
accountingteam(at)gleim(dot)com
*The CPA Review System includes book(s), Test Prep Online, Audio Reviews, Simulation Wizard, Gleim Online Courses and an 18 month Product Replacement Guarantee.