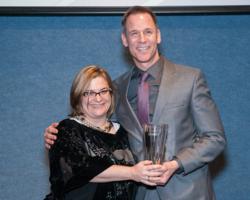 VIENNA, VA (PRWEB) December 04, 2012
Greg Albright, co-founder and partner of Production Solutions, Inc. (PS), a national direct marketing solutions company, received the highest honor of achievement by the Direct Marketing Association of Washington (DMAW)'s Best of Direct Spotlight on Achievement Awards Ceremony yesterday at the National Press Club, Washington, DC.
Surrounded by direct marketing heavy-hitters the likes of Rick Whelan of Marketing General, Alexandria, VA and Phyllis Freedman, President of SmartGiving, Washington, DC, Albright graciously accepted the Award for Distinguished Achievement before an audience of over 250 marketers, and his family from CA and NY.
"This achievement can be directly linked to my passion for what I do every day…without passion, this would just be a job. Promoting philanthropy by marketing non-profit organizations' missions and messages… is my life," he shared with the crowd that gave him two standing ovations.
During his 25 year tenure at PS, Greg conceived of and developed several innovative technology tools currently in use by PS, an internet-based bidding system, http://www.BidToPrint.com , and the firm's proprietary production management software, ProSIS. He also launched and managed two company subsidiaries offering complementary data management and design services.
Greg has been a member of the DMAW for over 20 years. He currently serves on the Membership Committee of the Direct Marketing Association Nonprofit Federation (DMANF). He is also a member of the Direct Marketing Fundraisers Association (DMFA) and Association of Fundraising Professionals DC Chapter (AFPDC).
A long-time resident of Adams Morgan, Washington, DC, Greg has volunteered on the Sitar Arts Center Board of Directors in Washington, DC, an after-school arts program for children and families of low income for the past six years. He also served as president of the Advisory Council for Training Futures, the job training and placement program of Northern Virginia Family Service (NVFS), from 1996 -2004.
Tiffany Neill, partner of one of the top fundraising agencies in the country, Lautman, Maska, Neill and Company, uniquely summed up Albright's reason for being honored by DMAW: "It is not only for his ability to stay on the cutting edge of the industry as well as his volunteer work for the [direct marketing world] and organizations about which he is passionate, but," she goes on to say, "he [also] deserves it for what he has not done. Greg says 'no' when he can't give 100 percent to something, when he doesn't have the capacity or the answers. And, then he generously finds someone else who can help. As a result, when he does something, he always excels."
Albright will now be ranked among such greats in the direct marketing community who have been bestowed the same honor: Austin Kiplinger of the Kiplinger Report, and Roger Craver, founder of Craver, Mathews, Smith and Company and founder/publisher of Washington, DC's famous, the Hotline, a precursor of The National Journal.
For more information about the Best of Direct visit: http://www.dmaw.org/2012/the-best-of-direct-wednesday-november-28/.
Production Solutions (PS) is one of the nation's top nonprofit production management and marketing solutions companies. Established in 1986, PS innovates formats and manages the mailings of hundreds of millions of pieces of fundraising and marketing materials every year for organizations such as Heifer International, American Heart Association and Habitat for Humanity. PS' commitment to logistics, detail, ease-of-process, consistency and quality keeps their reputation steady and growing. http://productioninterrupted.wordpress.com