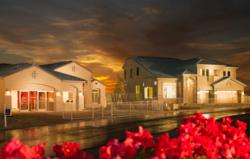 Phoenix, Arizona (PRWEB) December 03, 2012
Lennar Arizona has just surpassed 250,000 "views" on YouTube, has nearly 5500 Facebook "likes", and 4,000 Twitter followers. In fact, social media has become such a critical component of the home builder that it has created a new "I Team", standing for Information, Integrity and Internet. The five member I-Team is a strategic addition to the marketing department and will dedicate themselves to the on-line dialogue with customers.
In any given day, you can watch 30 of their YouTube videos that take the viewer through a visual tour of any number of Lennar model homes available in Arizona, provide insights into the company's innovations such as the new NextGen Home Within a Home® series, or point you in the direction to clear up a troubled credit score.
In the era of 24-7, second by second streaming information, the communication begins long before that prospective buyer walks into the sales office. For the uninitiated, social media is a group of Internet, web based and mobile applications that have redefined the way many people communicate. The user-generated content has put the general public in the forefront of defining the conversation, compared to the traditional methods such as newspapers, magazines, broadcast and websites that were controlled by professional journalists and company marketers.
For buyers Linn and Kelly Shaw who purchased a Lennar home at the Layton Lakes community in Gilbert, a Phoenix area city, the social media presence made their search process easy. "The ability to look at financing options and view new model homes prompted me to look into Lennar as a builder. I really enjoyed the YouTube videos of the models. With my wife's and my busy schedules, we didn't have a lot of time to tour model homes or communities, so their social media content streamlined the process for us. Access to the homes through the videos and online detail description of the homes was a huge benefit to us," said Linn Shaw.
Steven Snook and his family purchased a Lennar home in the Vail, Arizona community of Rancho del Lago, located near Tucson. Snook and his wife Tammy found the neighborhood by driving around looking at new construction, and appreciated that everything is included in the Lennar home, for the stated price, instead of having a lot of extra added costs.
Since touring the models, they have been Lennar Facebook friends where he "likes" the model home photos which then land on his Facebook page and his 600 followers can see what home is in his future. "Every time I see a Lennar picture or post on Facebook I get more excited. In the beginning it made me want to be a home owner now I see all of the exciting things I can do once I am a homeowner. Lennar does a good job with its updates," said Steve Snook. He and his family, including two small children, will move into their new home this winter.
Mike Lyon of the real estate sales training company Do You Convert says that content is the key in the success of social media. "If the information a company presents is entertaining or educational, it will spread." And that's the key. "Social spaces are not about selling; it's about educating and spreading information naturally, and Lennar was one of the first home builders to really commit to creating and spreading content," he noted.
A number of the big home builders have embraced social media, but Lennar has taken the communication to a higher level. The company has tremendous visibility online whether it's on Facebook, Twitter, YouTube, Pinterest, Flickr, Instagram, FourSquare, or LinkedIn, Lennar is all over it. The company also has four very active blogs.
"For several years now, Lennar has aggressively pursued the social media path. "There is no question that our social media initiatives have created relationships that have led directly to home purchases," said Mike Dowell, senior vice president of marketing for Lennar's Arizona operations.
Buyers who have utilized the social media connections often pass along those tools to friends. "It was so easy to share the Lennar YouTube videos with our friends who were also looking for a home," homebuyer Linn Shaw added.
The cultural shift is well underway. For many people of all ages, social media is becoming a preferred communication method. Social media is an effective way to communicate facts. "The customers seem to appreciate the ability to research the home opportunities on their own, and to review comments from current Lennar home owners via the company's Facebook page, blog and other social media sites," noted Dowell.
A home builder with nationwide presence, at the national level Lennar has more than 800,000 YouTube views, over 200,000 "likes" on Facebook and over 130,000 followers on Twitter. Additionally, each of Lennar's Divisions across the nation has a strong and growing social media presence in their respective markets.
Lennar, founded in 1954, is one of the nation's leading builders of quality homes for all generations. The company builds affordable, move-up, and retirement homes primarily under the Lennar brand name. The company has been building in Arizona for nearly 40 years and owns considerable land holdings in the state. For the latest Lennar information please visit any of the following: Lennar.com, Facebook.com/LennarPhoenix; Facebook.com/LennarTucson; YouTube.com/LennarPhoenix; YouTube.com/Lennar Tucson; Twitter.com/LennarPhoenix, Twitter.com/LennarTucson.