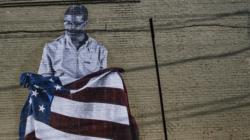 What does it mean to be American in the 21st Century
(PRWEB) December 04, 2012
Sheila Pree Bright, an Atlanta-based, fine art photographer,  takes the "Young Americans" portraiture series to the streets of Miami on December 6 - 9. Bright revisits the series which exhibited at the High Museum of Atlanta in 2008, curated by Julian Cox, Founding Curator of Photography and Chief Curator  of the Fine Arts Museums of San Francisco. The work examines attitudes and values of Generation Y as American citizens. The series shows diverse young Americans, who are new to the voting system, and exploring ideas of what it means to be American. Each participant posed with the American flag, using it as a prop to express their sentiments about America..
This summer Bright was part of the Living Wall Conference were 26 national and international female artist created murals across the Atlanta landscape. Bright took the Young Americans series outside of the solitude of the museum and presented the work within the communities wheat pasting them on buildings 12'x15'. The walls received local and national attention http://livingwallsconference.com.
 
With much success of launching her wall portraits in the Atlanta community,  Miami is the second stop. Bright states, "I want to engage with communities nationally after observing the major divide  during the most recent Presidential election. I am passionate about re-framing these images by giving  communities an open forum and empowerment." Bright's goal is to  encourage public engagement and to create dialogue about being an American in the 21st century.  To follow the "Young Americans" around the country, visit Sheila Pree Bright's Culture at   http://shepreebright.tumblr.com.