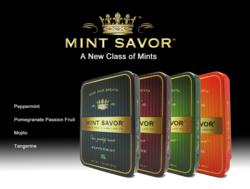 Just holding this tin makes one feel much cooler.
Jersey City, NJ (PRWEB) December 05, 2012
Mint Savor has launched a new class of mints in a tin so trendy it'll be the new staple in pockets and handbags alike. Research has shown over and over again that people become blinded and irrational when it comes to purchasing items they want. They will purchase items they don't need strictly based on the premise that it's so pretty/different. They want…no they need…something that makes them feel more attractive, more powerful, more distinguishable in the crowd. They want to be the first to have the latest smart phone, that new pair of sneakers, that sold out ticket, doll, game, or handbag. Money? That might stop them for a millisecond, but where there's a will there's a way. They find ways to get the money ("If I eat only 5 grapes for breakfast, Ramen noodles for lunch, and a tomato-not organic, of course-for dinner… then I can have the money in 1 weeks time!"). Or they rationalize that they need this product ("Well how in the world can I get to work without this pair of outstanding shoes. My co-worker has a pair far more expensive and I have to show that I am as well put together as her/him. This purchase is for the sake of saving my job!"). And then there's the" I deserve this" factor ("I work 5 days a week. I come home, I cook and clean and give myself completely to everyone. Don't I deserve to do something for me? I can't be a martyr my whole life. I deserve this dammit!").
When it comes to buying things, one thing is for sure, there is no shortage of attractive items. But there are items that are unique. Items that not everyone will be privy to. Items that will make someone stop, take a step or two back and say "We-eee-eeeellll. What do we have here?" Those items are not as easy to come by. One such item? Mint Savor's incredibly slick and trendy tins that house gourmet mints. Definitely not your typical flip-flop tin…and as far as flavors….definitely something feisty. How is it that of all the choices people have in perfecting their appearance for making a good impression on others (and fresh breath is definitely on the top three- along with good hair, and fabulous shoes) they are still stuck with the same bulky tins or paper rolls to freshen their breath. How cool can those look when they're pulled out during a date or a meeting? Try pulling out a sleek metal tin with mints perfectly lined up and enveloped by wax paper so perfect it makes one want to smack the hand that attempts to fold it back. Just holding this tin makes one feel much cooler. Try offering one of these Mojito, Pomegranate Passion Fruit, Peppermint, or Tangerine mints to co-workers during a meeting and gauge the response of every adoring eye gleaming in their direction. Everyone looking at them, and then looking at their own shameful, lame tins, and back again. Ahhhhh, triumph!!! Now that's what it's all about! Isn't it?