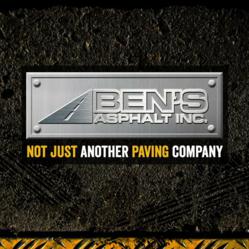 Santa Ana, CA (PRWEB) December 05, 2012
Ben's Asphalt, a local asphalt paving and maintenance company based in Santa Ana, California, received this year's Family Owned Business Award presented by the Orange County Business Journal and the California State University's Center for Family Business. Brothers John and Bill Skeffington and sister Teri Braden accepted the award at the Orange County Business Journal's award event at the Hyatt Regency Irvine on November 7th.
Bill serves as chief executive of the company, while John serves as chief financial officer and Teri as vice president of human resources. The company was founded in 1961 by their father Ben Skeffington, who began paving residential driveways out of the back of his pickup truck. Ben took on commercial jobs as the company grew and hired additional staff to meet demand, growing the company to its current size of about 150 employees. Today, Ben's Asphalt generates $30 million in annual revenue.
This past year, Ben's Asphalt has completed work for an impressive selection of clients, including the Port of Long Beach, the Angel Stadium, Knott's Berry Farm, the Irvine Spectrum, and the OC Fairgrounds, among others. The company is highly active in the non-profit community and supports a variety of local charities, including the Cystic Fibrosis Foundation, the Orangewood Children's Foundation, and Susan G. Komen for the Cure.
The Orange County Business Journal (OCBJ) is a local publication that provides critical business news and information to professionals in Southern California. The OCBJ presents several awards throughout the year to businesses in a variety of categories, and the Family Owned Business Awards are among the most prestigious of these. Ben's Asphalt is honored to receive this recognition.
About Ben's Asphalt
Ben's Asphalt is headquartered in Santa Ana, California, with offices in Anaheim, Riverside, and Calimesa, and provides a full suite of high-quality paving and asphalt repair services including new construction paving, asphalt maintenance, pavement grinding and recycling, sealing, striping, demolition, and more. With 45 years of industry experience and expertise, Ben's Asphalt specializes in getting the job done right, on time and on budget. To learn more about Ben's Asphalt, visit BensAsphalt.com.