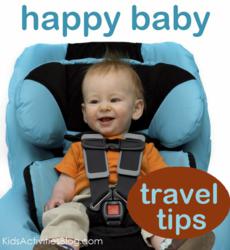 Road trips can be joyful for toddlers if Moms are prepared for all sorts of encounters.
Dallas, Texas (PRWEB) December 05, 2012
Traveling with an infant this holiday season can be stressful. Keeping the backseat traveler happy during a long road trip is what it is all about when Kids Activities Blog researched the internet and came up with a list of the top 40+ resourceful Mom approved road trip tips.
These Mom tested recommendations include organizing and storing helpful items in certain places, allowing plenty of rest and wiggle time for the toddler, and preparing for all kinds of surprise encounters. Keeping as close to the daily routine is also one of the best tips.
Among the most clever road trip tips are preparing for things to do at the destination, packing road trip art projects and games, making creative snacks, being innovative and patient for all sorts of messes along the way.
Allowing plenty of time for everything is another important tip, including the drive, eating and changing time, as well as allowing plenty of time needed for putting the toddler to bed in the new surroundings.
These road tips and a list of links to helpful family travel resources are featured on Kids Activities Blog this holiday season. Come check it out before planning and packing for the next family adventure.
About Kids Activities Blog
Kids Activities Blog is a website created by two moms (who collectively have 9 children), Rachel Miller and Holly Homer from June Cleaver Nirvana. It is their daily goal to inspire parents and teachers to play with kids. This interactive website publishes simple things to do with kids twice a day. Kids Activities Blog is a great tool for moms and teachers to find kid-friendly activities that create memories and sneak learning into the fun.