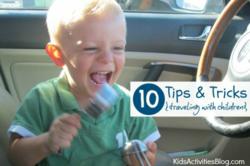 Planning ahead and allowing extra time will make the trip more relaxing for all.
Dallas, Texas (PRWEB) December 06, 2012
Planning to head out for a road trip this Holiday Season? Essential survival tips and tricks for traveling with children are currently featured on Kids Activities Blog.
Among the essential tips for traveling with children are taking plenty of breaks, bringing along auditory books checked out from the library, and packing familiar snack foods.
The most interesting tips from Mom travelers include not to bring along books but to plan to visit the hotel library or town library at the destination. Other resourceful tips include renting gear and doing laundry at the destination to avoid hauling along too much non essential luggage.
Traveling with an infant can be especially challenging. Kids Activities Blog has tips geared even towards the youngest travelling member. Try to stick to the routine as much as possible and pack an small bag of Mom's tricks.
To get the full list of everything a Mom may need to be prepared for all travel encounters, check out Kids Activities Blog. The best tip for all family members during this holiday season is to be patient and allowing for plenty of sleep for everyone, even Moms, to make the journey safe and sane.
About Kids Activities Blog
Kids Activities Blog is a website created by two moms (who collectively have 9 children), Rachel Miller and Holly Homer from June Cleaver Nirvana. It is their daily goal to inspire parents and teachers to play with kids. This interactive website publishes simple things to do with kids twice a day. Kids Activities Blog is a great tool for moms and teachers to find kid-friendly activities that create memories and sneak learning into the fun.