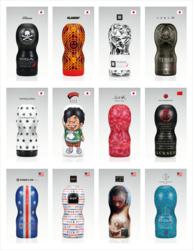 Tokyo, JAPAN (PRWEB UK) 11 December 2012
Makers of Male Pleasure Items, TENGA Co., Ltd. has revealed a collaboration line-up with 12 prominent brands and artists from the U.S.A., Japan and China, each redesigning the Japan-based manufacturer's most popular male masturbation aid.
The "Respect Yourself Project" is an annual charity fund-raiser project started by Tenga in 2010 for December 1st World AIDS Day. Aiming to raise money for and awareness of AIDS and HIV, the project spreads the message of ""Respect Yourself ~ Taking care of yourself will protect you from HIV""
This year's "RYP" features the likes of popular street clothing labels MARRIED TO THE MOB, HUF and XLARGE®, famous outlet stores such as Opening Ceremony have also contributed their designs alongside artist Makoto Aida. Growing from the original 5 Japanese street-wear brands in 2010, the 12-brand collaboration marks the project's largest and most global line-up to date.
The official website for Respect Yourself 2012 features each of the 12 limited edition collaborations, each of which are set to go on sale on December 1st World AIDS Day and are only available directly from each brand, respectively. Click here to go to the RESPECT YOURSELF PROJECT 2012 Website.
Along with their world-first collaboration with renowned pop artist Keith Haring earlier this year, TENGA continues to revolutionize the world of male pleasure items from what was once something to be embarrassed about into a fashionable, stylish lifestyle item for every man.
Participating Brands/Artists:
USA: Chari&Co NYC / HUF / Married to the Mob / Opening Ceremony
Japan: roar / Roen / SWAGGER / VANQUISH / XLARGE® / Santa Inoue (Santastic!) / Makoto Aida
China: BLACKSENSE
About World AIDS Day
Established in 1988, Worlds AIDS Day is held every year on December 1st, to raise awareness of and fight the stigma surrounding people living with AIDS/HIV.
About TENGA Co., Ltd.
TENGA Co., Ltd. is a manufacturer of male masturbation aids based in Tokyo, Japan providing a non-obscene solution for the self-care and control of sexual apetite. Since their launch in 2005, over 20 million TENGA brand products have been shipped worldwide, making them the most purchased male masturbation product around the globe. For further information regarding TENGA please contact Eddie Marklew at eddie(at)tenga(dot)co(dot)jp or visit http://www.tenga-global.com