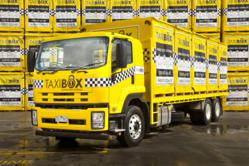 Sydney, New South Wales (PRWEB) December 01, 2012
Melbourne-born mobile self-storage company TaxiBox today announced a launch into the Sydney market, marking the first phase of an aggressive National expansion strategy.
Founded in Melbourne back in August 2010, TaxiBox has demonstrated an unprecedented growth rate that has caught the attention of National media outlets Channel 7, the Herald Sun and 3AW amongst others. The company's extensive fleet in Melbourne now handles in excess of 50 TaxiBox deliveries a day.
The revolutionary TaxiBox offering will provide Sydney-siders with a convenient and seamless self-storage solution that wheels right up to their door-step, eliminating the pain and unnecessary costs associated with traditional storage.
Co-Founder, Jeremy Rosen commented "Mobile self-storage simply takes the hassle out of moving and storing. TaxiBox customers enjoy the benefits that come with no driving, no unloading and no double handling of belongings. Unlike many other traditional storage options, our service also includes no long-term lock-in contracts, free TaxiBox delivery and free access to items throughout the full storage term. We have found this to be a huge hit with our Melbourne customers and are extremely excited about replicating our successes in Sydney."
Co-Founder Ben Cohn added "TaxiBox offers a fresh storage concept that is exceptionally convenient and cheap. This offering, coupled with an absolute attention to customer service is the reason behind our relentless growth and why we have overtaken our competition in the mobile storage space."
Armed with an undeniably unique formula, TaxiBox has its sights set firmly on a National roll-out that will no doubt see the company secure a long-lasting reign as leading mobile self-storage provider in Australia.
For more information, or to hail a TaxiBox, visit http://www.taxiboxmobileselfstorage.com.au