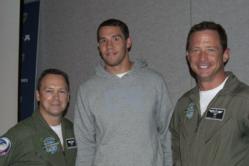 Atlanta, GA (PRWEB) December 05, 2012
After a slow start to the 2012 season, first year Head Coach Jeff Fisher was looking for an answer. That answer came in the form of highly skilled fighter pilots. During their bye week, the franchise participated in a team-building and leadership training keynote delivered by Atlanta-based Afterburner consulting firm. Founded on the combat-proven techniques of military elite, Afterburner's acclaimed Flawless Execution® model consists of a continuous improvement process that cultivates efficiency in rapidly changing and challenging environments. Entering the bye week with a 45-7 loss to the New England Patriots, the team sought to improve in these key areas with the Afterburner model.
The keynote was led by F/A-18 pilot Matthew "Whiz" Buckley, F-15 instructor pilot Jim "Boots" Demarest, and F-16 pilot Anthony "Roby" Roberson. During the program's breakout, "Whiz" met with the coaches while "Boots" worked with Chris Long and the defense. "Roby," an Air Force Academy football record-holder and former assistant coach, helped to relate the Flawless Execution® model for Quarterback Sam Bradford and the offense through his own experience on the field. The keynote and breakout will help to facilitate communication and fewer errors on the field. The model's continuous improvement process of Plan.Brief.Execute.Debriefsm is designed to transform strategy into action through a cycle of steps that have been proven to accelerate performance on all levels.
The event followed a two-hour practice in the cold rain, but energy levels remained high as the team entered the Afterburner training. The intense keynote kept players at the edge of their seats with dynamic fighter pilot videos and the Afterburner consultants' own combat stories. Head Coach Fisher particularly appreciated the keynote's message of "it's not who's right, it's what's right," a resounding theme seen in the model's Nameless, Rankless Debrief. sm As generals and admirals in the military are not present during mission debriefs, the program encourages a players-only debrief that allows for complete honesty and full participation from team members.
The leadership development training is part of a league initiative called the NFL Player Engagement Program. The program provides players with the tools needed to achieve success within their careers as well as in their personal lives, promoting life-long growth on and off the field.
Afterburner will work with five NFL teams in the 2012 season, including the Green Bay Packers, Washington Redskins, and Denver Broncos, whose four-game winning streak has placed them first in the AFC West. Afterburner will also host a second partnership with Super Bowl champions, the New York Giants.
To learn more about Afterburner's innovative approach to professional development and strategy, visit http://www.afterburnerseminars.com or call (404)-835-3500.
About Afterburner®
Afterburner, Inc., founded in 1996 by U.S. Air Force fighter pilot Jim "Murph" Murphy, trains organizations around the world in the simple, scalable improvement processes of Flawless Execution, which encompasses the Three E's-Empower, Equip, and EmbedSM. With a client list that includes over 30% of the U.S. Fortune 500, Afterburner is among Inc. Magazine's "Inc. 500 List of America's Fastest Growing Companies" and has been featured in the Wall Street Journal, Business Week, Financial Times, Newsweek, and Meetings and Conventions Magazine. Afterburner has also appeared on CNN, CNBC, Fox News, and Bloomberg News. For information on Afterburner's Flawless Execution model, please visit http://www.AfterburnerConsulting.com.