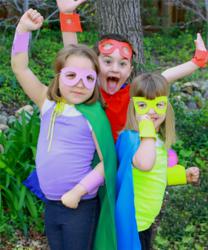 "Our goal is to provide our customers with exciting party themes their kids will love, and plenty of them."
Folsom, CA (PRWEB) December 03, 2012
The creators of FancyPantsParties.com have added a new Party theme to their lineup of all inclusive dress up party packages for kids. The site already boasts a Princess Party, Fairy Party, Cupcake Party, Glamour Party, and Diva Party for Girls. They also offer Cowboy Party, Pirate Party, Space Party and Knight Party packages for boys. The new addition is a Superhero party in the tradition of classic hero comic books.
"We have so many fun ideas for kids party themes, we hope to add many to the site every year," says McKenzie Diegle who started the company with husband Brandon in 2011. "Our goal is to provide our customers with exciting party themes their kids will love, and plenty of them. We want them to come back for next year's birthday, and for their next child's birthday parties. We hope to achieve that by regularly introducing new and unique ideas for entertaining children."
All of the Fancy Pants party packages include costumes, party favors, plates, cups, napkins, cutlery, decorations, invitations, thank you notes, birthday candles, and a creative craft project. For each partygoer the new Superhero package provides capes, masks and wristbands in bright assorted colors, (which can be decorated with an assortment of stickers and embellishments) , drawstring canvas favor bags, jumbo bouncing star balls, superhero gliders, and stickers. The partyware is a vintage comic book style, brightly colored with "WHAM", "BAM" and "POW". "We have co-ed options for most of our themes, but we expect our Superhero party to be a standout with parents entertaining both boys and girls," states Brandon Diegle. "It is what our daughter requested for her own party this year, and it was a big hit with boys and girls alike."
The Superhero Party Package is now available at FancyPantsParties.com and can be shipped anywhere in the United States. An all inclusive party package starts at $110.25 for 6 guests. The Superhero themed party items can also be purchased individually on the "Create Your Own Party" page. Game suggestions and recipe ideas are also provided for each theme on the website.
Visit http://www.FancyPantsParties.com today and make party planning easy.
FancyPantsParties.com donates 5% of all proceeds to child-related charities.