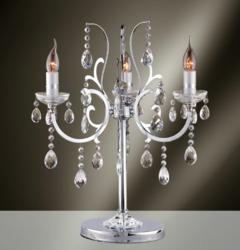 The Interior Gallery promises never to compromise on quality while offering factory direct prices to consumers
Carrollton, Texas (PRWEB) December 02, 2012
The Interior Gallery just added new table and floor lamps to their lighting collection. Initially when the company launched their crystal chandelier collection, they received feedback from consumers asking whether they offer any table or floor lamps based on the same chandelier style.
As a result, the company had new floor and table lamps designed and made along with some sconces which they put up on their company website under the Lighting section. These are not just ordinary table or floor lamps. They are made from high quality K9 crystals which are precision cut by machines. K9 crystals are considered high quality crystals in the market.
The Interior Gallery promises never to compromise on quality while offering factory direct prices to consumers. Each lighting fixture offered by the company is UL certified. This ensures that the lamps and sconces passes stringent safety test and are qualified to be enjoyed in both commercial or home environment.
Each lamp comes with a polished chrome finishing. According to a company spokesperson, these lamps and sconces offer the same state of luxury as the crystal chandeliers. Consumers will be able to enjoy the interior design gallery luxury in an atmosphere of rest and relaxation. These new table and floor lamps along with the sconces are currently on offer.
Popular clients such as famous jeweler Tiffany & Co., fashion house Armani Exchange and MTV have purchased high quality furnishing from them.
Home owners and businesses will also be delighted with the other high quality products offered by the company. These consists of bathroom products such as vanities, bathtubs, toilets, bidets, faucets, sinks and cabinets. The interior furniture gallery range is also quite extensive with some being skillfully handcrafted by artisans.
Customers who are looking for home furniture could choose between the modern, classical or antique style of living room sets. Luxury beds, tables and chairs are also available.
Those wishing to add some color and character to their homes or business surroundings will find the themed statues and décor selection to be fulfilling. There is even a restaurant décor section and the company has an interesting Betty Boop collection of figurines as well.
Popular ecommerce solution, InstanteStore powers the shopping cart experience for The Interior Gallery.
For more information, please visit http://www.TheInteriorGallery.com. Those wishing to speak to customer service could call toll free 866-205-6867. Actual products could be viewed at the company's new $3 million showroom in Allen, Texas while the main distribution center is in Carrollton, Texas.