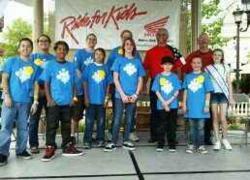 The Pediatric Brain Tumor Foundation's contribution to meaningful research is one of the major reasons why survival rates for childhood brain tumors have increased 60% over the last three years.
LAS VEGAS, NEVADA (PRWEB) December 02, 2012
Iron Eagle has named as its primary charity recipient for 2012-2013, the Pediatric Brain Tumor Foundation (PBTF). Iron Eagle has also become directly involved by sharing its leadership and expertise in motorcycle events and by becoming the Las Vegas Strike Team Leader for the Ride for Kids, a multi-city event benefitting the Pediatric Brain Tumor Foundation (PBTF), which works to find the cause and cure for childhood brain tumors.
In the 2012 Ride for Kids, Las Vegas produced over $80,000 from the auction proceeds of a vintage motorcycle, more than $12,000 by a dinner hosted by Joe's Seafood, Prime Steak and Snow Crab at the Forum Shops of Caesar's Palance, and $65,000 by more than 500 direct motorcycle participants. The $157,000 total was added to the more than $465,000 raised in Las over the previous years. Overall, across the country the PBTF Ride ofr Kids raised over $3 million dollars on two wheels. In 2013, it is expected that the Ride will expand to more than 43 cities.
The 2013 fund raising season begins on December 14, 2012 when the Asian Community Resource Center and Lee's Discount Liquor will be hosting a wine tasting to benefit the Pediatric Brain Tumor Foundation from 7 - 10 p.m. The event will be held at Lee's Discount Liquor, located at 4427 E. Sunset Road in Las Vegas. Tickets to the event are $20 and include international wines, appetizers and a silent auction. For tickets or information, please call 702-706-6909.
Other events scheduled to be announced will be held at the January 10, 2013 Mid-America Motorcycle Auction, a golf tournament at the PGA Golf Course in Las Vegas scheduled for June 10, 2013, and many more special events.
ABOUT THE PEDIATRIC BRAIN TUMOR FOUNDATION
The Pediatric Brain Tumor Foundation® (PBTF) is a Charity Navigator rated 501(c)(3) nonprofit charitable organization that seeks to find the cause of and cure for childhood brain tumors by supporting medical research, increase public awareness about the severity and prevalence of childhood brain tumors, aid in the early detection and treatment of childhood brain tumors, support a national database on all primary brain tumors, and provide educational and emotional support for children and families affected by this life-threatening disease. For more information go to http://www.pbtfus.org/rideforkids
ABOUT THE IRON EAGLE
With elements founded over 100 years ago, Iron Eagle works with companies, non-profits, independent riders and clubs alike to focus North American big heartedness and love of the open road in an effort educate and produce events that raise awareness, money, and lasting public interest for charitable causes. In June 2012, Iron Eagle staged a 25,000 mile motorcycle ride thorugh the U.S. and Canada that was instrumental in rasining more than $5 million for its 2011-2012 charity, the Diabetes Research Center. A proud member of both the Better Business Bureau of Southern Nevada and the Las Vegas Chamber of Commerce, Iron Eagle was nominated for 2012 awards in the catagories of small business enterprise of the year and non-profit activism.
See us at http://www.ironeagle.org; like us/friend us on http://www.facebook.com/ironeagle.lv; follow us on http://www.twitter.com/ironeagle2013.