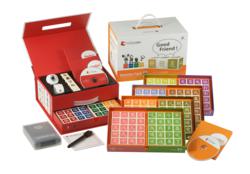 Ironically, westerners or non-native speakers skip learning Chinese characters to save some time but end up with the opposite result.
New York, NY (PRWEB) December 06, 2012
The independent and internationally recognized iF design awards, conferred annually by the iF International Forum Design, are announced at the end of each year. Since its introduction in 1953, each year the iF design awards reviews over thousands of entries from around the world and has become a sort of an Oscar award for excellent design. At the end of November, iF announced the winners of 2013 for its three award categories: product design, communication design, and packaging design. Amongst these, the iF Communication Design Award for online and offline applications was conferred to ChineseCUBES.
On the afternoon of December 6th, 2012, the Founder and Chairman of ChineseCUBES, Rex How, held a press conference at New York's Sofitel Hotel to explain the background, journey, and future plans of ChineseCUBES. ChineseCUBES has offices in Taipei, Beijing, and New York.
WINNING THE iF AWARD
Since April of this year, Rex How has spent most of his time in New York in order to oversee the long awaited US launch of ChineseCUBES.
"In mid-November, we were in Philadelphia launching our product at the ACTFL Annual Convention and World Languages Expo, and received great feedback and response from teachers," says Mr. How. "After the expo, we had just gotten back to New York when we received the iF award news, giving us even more encouragement."
ChineseCUBES winning the iF design award comes to no surprise for those who have already seen the product. Former Coordinator of Chinese Language Program at Columbia University, Chih-ping Sobelman says, "Not only is it a tool that has never been seen before, but it truly applies the teaching philosophy of 'student-centered' education." Former Deputy Director of the National Foreign Language Center at University of Maryland, Shuhan Wang adds, "ChineseCUBES acts as a bridge for beginners to cross the chasm of intimidation when learning Chinese, especially in reading and writing Chinese characters."
ChineseCUBES utilizes physical Character Cubes and interactive Augmented Reality software technology to create a novel and playful language learning tool that can eliminate many people's fear and intimidation of learning Mandarin. "I believe that learning should be fun, a process that encourages using one's own creativity and imagination, especially when learning Mandarin Chinese. Thus, ChineseCUBES was designed to be a learning tool that allows aspiring speakers to play to learn, practice, and produce Chinese," says Mr. How.
NEW CONCEPT. NEW APPROACH. NEW TECHNOLOGY.
Mr. How designed ChineseCUBES with a new concept, new approach and new technology. He strongly believes in the logic of Chinese block characters and in the power of technology. "Often when learning Chinese, westerners are fearful of Chinese characters thinking that the characters are just too many and too difficult to learn. And so, many westerners will skip learning the characters all together and just learn how to speak Chinese. They can speak Chinese fluently, but very poor in reading, not to mention writing," explains Mr. How. "Ironically, westerners or non-native speakers skip learning Chinese characters to save some time but end up with the opposite result."
ChineseCUBES has two unique qualities:
1. ChineseCUBES uses individual tactile cubes to teach 200 of the most commonly used Chinese characters character-by-character. Each tactile cube represents one Chinese character and has on it a unique AR marker that makes the cube come to life on screen when placed in front of the webcam with audio and visual content instruction to teach learners how to say, write and use these Chinese characters.
2. From playing and arranging the characters, learners discover how easy it is to combine and build the characters into meaningful phrases and sentences. "Every time westerners hear that you can make more than 30,000 meaningful phrases and sentences with only 200 Chinese characters, they are always amazed," exclaims Mr. How.
"To learn Chinese using such a character-based method proves to be difficult and limiting when using traditional textbook or audio CD-ROM instruction. And so I wanted to use the newest technologies to create a never-before-seen, fun and easy new way of learning Chinese that could break free from the limitations of past learning materials," says Mr. How, who is himself an avid user of digital media and technology.
A GLOBAL EFFORT
Half past three o'clock in the morning on May 14th, 2009, was an important moment. At the time, Mr. How was staying in the Chaoyang District of Beijing. That night, he could not sleep as he was struggling in his mind to find the perfect solution to this challenge. Sitting next to the living room window, he looked outside into the dark city. All of a sudden, out of nowhere, an idea popped into his mind and gradually became more and more clear.
Naturally, Mr. How grabbed the nearest pen and paper and quickly sketched out this idea. He had sketched down the shape, name and basic functions of what was to become ChineseCUBES. The next day, Rex How hurried back to Taipei to find two of his good friends Akibo and Hsin-Chien Huang to design a prototype that integrated interactive and digital technologies. Later, technology partners from the US and Germany helped develop the full design and function of ChineseCUBES.
"Even the content and curriculum of ChineseCUBES was developed by experts from both sides of the Taiwan Strait," says Mr. How. "From the choice of characters to the spiral pedagogy, all of the ChineseCUBES curriculum content was developed with the expertise and consultation of Professor Liu from the Beijing Language and Culture University and Professor Ya-hsun Tsai of Taiwan's National Taiwan Normal University. In addition, the Inspector General in the field of Chinese teaching of France's Ministry of Education, Professor Joël Bellassen, also serves as an editorial advisor for ChineseCUBES."
VISION FOR THE FUTURE
ChineseCUBES has had an eventful three years full of many ups and downs, from its establishment in 2009 to finally launching on the market in the US in 2012. But now that ChineseCUBES has received the recognition of the internationally acclaimed iF Award, Mr. How has many thoughts.
"Many people have asked me, why don't you stay in Asia and just manage your publishing company, rather than starting a new, grueling business venture at your age," Mr. How says, then answering, "Actually, I have two reasons. First, of course, is that I know that in order for my company to find a place in this new digital age, I would have to explore a new path. Second, I approached this as a personal experiment, to see whether or not a Taiwanese venture could leverage China's growing influence to create a viable business venture on a global scale. Both China and Taiwan have talked for a long time about venturing out together, but have needed a real-world precedent to follow. I wanted to create that precedent."
For ChineseCUBES to be honored with the iF Award so soon after transitioning from its research and development stage to its launch on the market is a great encouragement. "I'm sure that the road ahead will be full of challenges and obstacles, but to be able commemorate our launch with such an honor makes me very happy indeed," says Mr. How.
Mr. How sees two main avenues for ChineseCUBES's future growth and development. First is to thoroughly leverage ChineseCUBES's interactive design to become a new learning tool to complement traditional textbook curricula.
"Because our 200 characters' curriculum provides a fundamental understanding and basic foundation of the Chinese language, ChineseCUBES can be paired together with textbook programs and teaching methods to become a versatile learning tool." Many teachers have agreed that using ChineseCUBES as a learning tool can help students stay motivated about learning Chinese, and also produce better results.
Second, ChineseCUBES is also an effective tool for the self-learner at home. Learners can easily switch between using the Freestyle and Learning modes. For young self-learners and their parents, ChineseCUBES can become a fun learning activity for the whole family to enjoy at home.
"My hope is that through using ChineseCUBES, non-native and aspiring speakers will want to learn Chinese not only because Chinese is an increasingly important language to know, but also more importantly, because they recognize that there is actually a simple logic to Chinese characters, and that learning Chinese effectively should not rely on rote memorization but rather on using one's own imagination and creativity. Ideally, learning should always be this way."
Going forward, ChineseCUBES will be cooperating with many partners and educators. Also, ChineseCUBES will be working with China International Publishing Group, in Beijing, as a strategic partner.
The December 6th ChineseCUBES press conference had a warm reception. Attendees included representatives from Taiwan, China and New York.
For more information on ChineseCUBES, please visit the website at http://www.chinesecubes.com
Or, watch a short video clip at http://youtu.be/NqC51vLE5cY