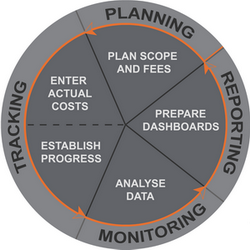 Running a project without a WBS is like going to a strange land without a roadmap.
(PRWEB) December 02, 2012
01 Dec 2012 – 3 years in the making, the key driver of IDIAZ's brand new project planning software tool was to create a software product which is quick to learn, requires minimal data input, and provides powerful output information empowering business to improve their profitability on projects.
Smartline Project has simplicity at its core – instead of being yet another complex product with an extensive range of features, Smartline Project contains just the essential features required for planning and tracking a project successfully. A project can be planned and set up in minutes, and the Project Dashboards produce a range of powerful output data, including Baseline information, Earned Value, Cost projections, Cash Flow, Budgets, Delays and Contingencies, allowing the user to take control of their projects.
Planning and tracking projects in Smartline Project is a simple process. First, the project Work Breakdown Structure is created, with tasks scheduled and resourced, and the fees entered.
Smartline Project's Work Breakdown Structure.
Once the project baseline has been set, progress on tasks and costs (obtained from the user's accounting or timesheet system) are entered into the software on a regular basis.
Smartline Project then automatically calculates a range of key data and presents it on the Dashboards and Financial screens in the form of graphs and tables, empowering the user to make informed decisions and update the project plan accordingly.
There is a short video illustrating Smartline Project's key features and benefits here.
Smartline Project is available as a one-off purchase – there are no ongoing charges, subscriptions, or hidden costs. The purchase price varies depending on the number of project slots that are purchased. Installation is simple, and the product is activated by obtaining an activation code from the product website.
IDIAZ Software Ltd is dedicated to developing smart and effective software solutions for small and medium size businesses that are simple and affordable.
*Note: This product will work with Microsoft Excel versions 2007 and 2010 only.