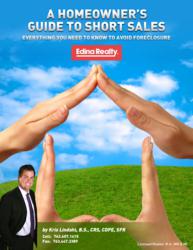 Knowing that you are eligible is a great first step, and in addition to the ability to check their eligibility people will also be able to talk to me or a member of my specialized short sale team.
Blaine, MN (PRWEB) December 01, 2012
"Because of the complexity of the short sale process and the fact that different banks and lenders handle the short sale process in different ways plus have different requirements, people are searching for short sale information and help," Kris Lindahl, the experienced real estate agent explains. "That is why I published a new eBook that will help those in need of information," Kris Lindahl says.
"I get a multitude of calls and emails every day," Kris Lindahl explains. "So I wanted to find a way to reach more people," Kris Lindahl says.
"People are using technology to find the information they are looking for so I have spent months creating websites, e-Book, and videos so it would be easy for people to get the short sale information they need to see if the short sale process is a viable option," Kris Lindahl explains.
"I've also published an e-Book to help people answer their questions," Kris Lindahl adds. The e-Book, titled "A Homeowner's Guide To Short Sales", can be found at HomeOwnersGuideToShortSales.com as a complimentary download. "Many people from all over the country have downloaded the e-Book and are watching the videos in the Short Sale Video series I recently released," Kris Lindahl remarks.
Call the experienced Short Sale Agent Kris Lindahl and the Kris Lindahl Team (763) 447-3925 for short sale information. Visit the new Minnesota Short Sale Calculator website to check eligibility and get personalized help.