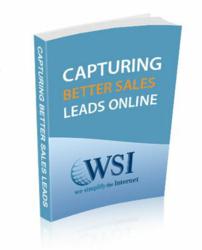 Milton, Ontario (PRWEB) December 03, 2012
Internet marketing firm WSI Milton has launched a free web marketing resource for businesses looking to capitalize on online lead generation. The e-book titled "10 Steps to Capturing Better Sales Leads Online" draws on the knowledge of the consultant team's decades of combined experience.
In an easy to follow visual format, the guide outlines 10 easy steps in language devoid of marketing jargon, targeting the small to medium sized businesses that make up the firm's clientele. It provides detailed situational examples of successfully executed internet marketing, and formulas and strategies that have been proven effective. The e-book provides practical guidance for any small business that is looking to develop or modify an existing advertising plan.
The resource explores the relatively new concept of content marketing in depth. When compared to traditional advertising methods that interrupt consumers to spread the company's message, content marketing is less invasive, and helps business to capture consumers that are already researching their products and services. The guide in itself is actually an example of content marketing.
The team at WSI Milton is well positioned to give small to medium sized businesses advice on how to increase their revenue by leveraging the internet. Their client's website conversion rates, a measurement of how many site visitors submit a contact or quote form, are commonly twice the industry average.
For more information or to download the "10 Steps to Capturing Better Sales Leads Online" e-book, visit WSI Milton's website.
WSI Milton is a subsidiary of WSI (We Simplify the Internet), the world's premier internet franchise that offers online marketing services to small and medium-sized businesses. Through applying their expertise in internet marketing, the WSI Milton team has helped numerous businesses benefit from a well crafted online presence.