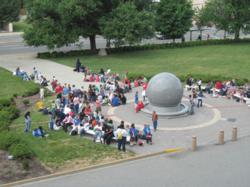 "This allows us to knit together two important components of our out-of-school time initiative to foster informal STEM learning within our own facility and throughout the state." - Richard Conti, CWO, Science Museum of VA
Richmond, VA (PRWEB) December 02, 2012
The Science Museum of Virginia recently announced that it will receive one of 12 grants from the Institute of Museum and Library Services (IMLS) and the John D. and Catherine T. MacArthur Foundation to design a Learning Lab, a new space where young people can connect with mentors and peers, as well as new media and traditional materials to pursue their interests more deeply and connect these new skills to academics, career, and civic engagement. Inspired by YOUmedia, a teen space at the Chicago Public Library, and innovations in science and technology centers, these labs will help young people move beyond consuming content to making and creating it.
The 12 winners—five museums and seven libraries—will receive a total of $1.2 million in planning grants to plan and design the labs. The Science Museum of Virginia will receive $100,000 for the development of their lab. The grant is part of a second round of winners in a national competition to create 21st century labs in museums and libraries around the country.
Science Museum of Virginia Chef Wonder Officer Richard C. Conti added "We have been following the research from MacArthur and IMLS on digital learning as we have developed key pieces of our youth programming. This grant allows us to knit together two important components of our out-of-school time initiative to foster informal STEM learning within our own facility and through youth development agencies throughout the state."
Each Learning Lab will be designed to facilitate a research-based education model known as connected learning – one that promotes discovery, creativity, critical thinking and real-world learning through activities and experiences that bring together academics and young people's interests, often facilitated by digital and traditional media. The winning institutions will match the funds from the competition and partner with local educational, cultural, and civic organizations to build a network of learning opportunities for young people.
"Digital media are revolutionizing the way young people learn, socialize, and engage in civic life," said Julia Stasch, Vice President of U.S. Programs for the MacArthur Foundation. "These innovative labs are designed to provide today's youth with the space, relationships, and resources to connect their social worlds and interests with academics, and to better prepare them for success in the 21st century."
"Because of the expertise and content we have to offer, museums and libraries are uniquely positioned to offer young people meaningful learning experiences that link to science, art, and technology," said Susan Hildreth, Director of the Institute of Museum and Library Services. "With caring mentors and skilled professionals on staff to guide teens in their exploration, Learning Labs help youth express themselves and hone their skills in a safe environment."
"The Science Museum is a strategic partner in our effort to infuse out-of-school time with creative and meaningful learning opportunities that feel different to kids than in-school learning. We are very excited about the Science Museum's plans with this grant to empower our kids to use digital media tools to problem solve, communicate, and connect with the community beyond their immediate surroundings." - Todd McFarlane, President & CEO of Boys & Girls Clubs of Metro Richmond
"Altria is proud to be an active partner with the Science Museum of Virginia, helping to engage middle-school kids in science, technology, engineering and math through unique learning experiences," said Brian Quigley, president & CEO of one of Altria's companies, U.S. Smokeless Tobacco Co. "This prestigious grant is an important validation for the Science Museum as it works with Altria and others to equip kids with skills and knowledge they need for success in the future workforce."
"Virginia Mentoring Partnership is pleased to play a role in the Science Museum of Virginia's Out-of-School Time Youth STEM initiative for the IMLS MacArthur Digital Media Learning Lab grant. The collaboration between the SMV and VMP represents a marriage of best practices of positive youth development through mentoring and informal STEM learning. We look forward to continuing our work together through this innovative and exciting connected learning initiative." Jennifer J. Smith-Slabaugh, Ph.D., Executive Director, Virginia Mentoring Partnership.
Along with Richmond, VA, the new Learning Labs are planned for: Dallas, TX; Madison, WI; Rochester, NY; Oakland, CA; Billings, MT; Poughkeepsie, NY; Tucson, AZ; Tuscaloosa, AL; Pittsburgh, PA; Lynn, MA; and Las Vegas, NV).
These new grantees join 12 additional communities also planning new learning centers in libraries and museums as a part of the Learning Labs in Libraries and Museums project. The initiative was first announced in September 2010 in response to President Obama's "Educate to Innovate" campaign, an effort to foster cross-sector collaboration to improve America's students' participation and performance in science, technology, engineering, and mathematics (STEM). Since then, MacArthur and IMLS have committed to invest $4 million to support knowledge-sharing activities for museums and libraries nationwide, and work together to create new Learning Labs across the nation.
Urban Libraries Council (ULC) and the Association of Science-Technology Centers (ASTC) will continue to manage and guide the Learning Lab grantee community to ensure that each new space embodies best practice principles, based on research and evidence in the field of youth digital learning, to help young people gain 21st century skills and an effective STEM education.
The 12 recipients of this round of grants were selected out of a pool of 105 applicants from 33 states and one territory. Applications were evaluated by professionals with relevant expertise in digital media and learning, as well as museum and library management. Winners will participate—in-person and online—in a community of practice that will provide technical assistance, networking, and cross-project learning. To learn more about the Learning Labs Project, visit http://www.imls.gov or Youmedia.org.
###
The Science Museum of Virginia's mission is to Inspire Virginians to enrich their lives through science.
Gone are the days when science sat idle in a textbook. Since its founding by the Virginia General Assembly in 1970, the Science Museum of Virginia has brought learning to life with hundreds of experiential exhibits, awe-inspiring artifacts, and interactive technologies.
The Institute of Museum and Library Services (IMLS) is the primary source of federal support for the nation's 123,000 libraries and 17,500 museums. Our mission is to inspire libraries and museums to advance innovation, lifelong learning, and cultural and civic engagement. Our grantmaking, policy development and research help libraries and museums deliver valuable services that make it possible for communities and individuals to thrive. To learn more, visit http://www.imls.gov or follow @US_IMLS on Twitter.
The John D. and Catherine T. MacArthur Foundation supports creative people and effective institutions committed to building a more just, verdant, and peaceful world. In addition to selecting the MacArthur Fellows, the Foundation works to defend human rights, advance global conservation and security, make cities better places, and understand how technology is affecting children and society. The Foundation's digital media and learning initiative aims to determine how digital media are changing the way young people learn, play, socialize, and participate in civic life. The goal is to build a base of evidence about how young people learn today, in an effort to re-imagine learning in the 21st century. To learn more, please visit: http://www.macfound.org/learning or follow us on Twitter @macfound.
The Association of Science-Technology Centers (ASTC) is a global organization providing collective voice and professional support for science centers, museums, and related institutions, whose innovative approaches to science learning inspire people of all ages about the wonders and the meaning of science in their lives. Through strategic alliances and global partnerships, ASTC strives to increase awareness of the valuable contributions its members make to their communities and the field of informal STEM learning. Founded in 1973, ASTC now represents over 600 members in 45 countries, including not only science centers and museums, but also nature centers, aquariums, planetariums, zoos, botanical gardens, and natural history and children's museums, as well as companies, consultants, and other organizations that share an interest in informal science education. For more information on ASTC, or to find a science center near you, please visit http://www.astc.org or follow us on Twitter @sciencecenters.
The Urban Libraries Council (ULC) is a membership organization made up of North America's premier public library systems and the corporations supporting them. While ULC's members primarily represent urban and suburban settings, the work done by ULC is widely used by all libraries including those in rural settings. ULC strategically addresses issues important to all communities including education, workforce and economic development, public safety, environmental sustainability, health, and wellness. ULC's members are thought leaders dedicated to the continuous evolution and strengthening of libraries to meet changing community needs. ULC's focus is on helping library leaders develop and utilize skills and strategies that match the challenges of the 21st century. Learn more at http://www.urbanlibraries.org or follow us on Twitter: @UrbanLibCouncil