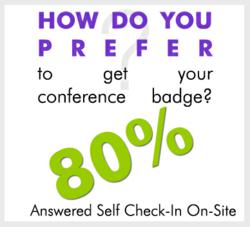 Self check-in and on-site badge printing is also a much more eco-friendly way of conducting business.
East Norriton, PA (PRWEB) December 04, 2012
Trade shows are becoming "on demand". The results of a new poll by Expo Logic, a convention services company specializing in registration and lead management, shows there has been an industry shift from paper to electronic registration at trade shows and conventions.
The Twitter poll revealed that 80% of conference attendees now prefer to participate in self check-in on-site at trade shows. Traditional trade show registration processes included mailing out badges to attendees before the show or attendees standing in long lines to retrieve them. Five years ago, 75% of Expo Logic's clients mailed out their badges in advance. Today, just 15% do so.
The move to on-site self check-in and printing of badges with tools like Expo Logic's badge on demand is happening for many reasons, according to Jeff Cooper, President and CEO of Expo Logic. "Mailing takes up valuable planning and organization resources, costs money in postage, envelopes and labor hours - and far too often results in the attendee forgetting his or her credentials at home. Self check-in and on-site badge printing is also a much more eco-friendly way of conducting business," said Cooper.
It can also help reduce no shows, which can have a devastating effect on trade shows, since event registration numbers have a substantial impact on the costs and planning of events. Over the past two years, on average, 30% of people who pre-register for conferences don't end up attending. Cooper says that results in a huge waste of money if badges were already mailed to them in advance.
Electronic registration methods allow conference planners to monitor attendance in real time and help ensure their numbers are accurate. Flipping through registration booklets for last names beginning G-K are a thing of the past. Instead, when attendees check in on-site, they are immediately verified and counted. Pre-mailed badges allow attendees to slip through the cracks and not be counted, even if they actually attend the show. Plus, there is an added security risk having thousands of name badges floating around for weeks in the mail.
Expo Logic's ExpressPass system provides trade show planners with the latest in barcode technology to quickly process thousands of attendees with minimal hassle, even utilizing attendees' wireless mobile devices. That can be a relief for travel-weary guests short on patience and time. And, an easy check-in process sets the tone for the entire event.
Since 1979, Expo Logic has offered the fastest, most flexible and comprehensive registration and lead management services in the event and trade show industry. Learn more at http://www.expologic.com.