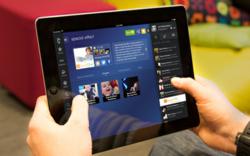 "It's an absolute privilege to be a beneficiary of Gramble at this exciting point in their development."
The Hague, the Netherlands (PRWEB) December 03, 2012
Gramble is a progressive new social-gaming network (days away from its beta launch), which combines fun with good causes by making charity a painless part of players' daily lives. On Gramble's network, players can designate their favorite charities and donate to them directly or indirectly through their activity on the site – a concept that recently earned them the Baby Tycoon Award for best new start-up in the Netherlands.
Joining Gramble's videos previewing the network for future players and developers is Gramble's sneak peek for charities curious how they can benefit from the Gramble model: http://www.youtube.com/watch?v=k_vJMQJX06Y&feature=youtu.be
Gramble has also released the names of its first six charity partners, who will be featured on the network with their own community pages. Gramble's beta players will be able to learn about, interact with, and eventually 'star' these initial charities, earmarking them for funds earned by their gaming and general Gramble activities. All charity partners are hand-selected and vetted by Gramble World to ensure their reliability and passion for creating positive change in the world.
'Charity Miles' is an iPhone app that allows users to incorporate charity funding into their exercise routine. The app will help runners, walkers, and bikers collect corporate sponsors for their favorite charities based on their activity. The 'Burma Collaboration' was formed by a group of volunteers in Mae Sot, Thailand to help Burmese refugees there. The mission of 'The Adventure Project', meanwhile, is to secure financial support for social entrepreneurs in developing countries. Current projects include funding charcoal-efficient stoves to protect the poor and the environment from the effects of toxic smoke, water pumps to deliver clean drinking water, irrigation pumps to help struggling farmers feed their country, and training female healthcare workers.
As a gaming company, Gramble has a special affection for new charity partner 'Special Effect', whose mission it is to find gaming solutions for children with disabilities of any kind. However, Gramble is equally excited about working with 'Send a Cow', which not only provides livestock to the needy but also training, seeds, and support to build lasting solutions to community hunger. Finally, Soles4Souls recycles unwanted shoes to protect the health and provide education and entrepreneurial activities in third-world countries.
"It's an absolute privilege to be a beneficiary of Gramble at this exciting point in their development," says Dr. Mick Donegan, founder of Special Effect. "We've been very impressed with their dedication, professionalism, and sheer personality as an organization right from the start. As a charity that is directly involved in helping disabled gamers to level the playing field, it's a perfect match for us, and a real pleasure to be involved in Gramble's original and engaging approach to social gaming."
Gramble will continue to add hand-selected charity partners to the network on a case by case basis. If you're interested in learning more about Gramble's activities and partners, visit GrambleWorld.com for more information. To sign up for the beta launch, register your GrambleTag at Gramble.com before your favorite is taken.
About Gramble
Gramble, part of Gramble World BV (http://www.grambleworld.com), offers a truly cross-platform social-gaming experience. Game progress stored on online servers ports from device to device – from smartphones to tablets and PCs – meaning players can pick up their game right where they left off, anytime, anywhere. Players will be able to challenge friends, share their pictures and personal achievements, and best personal challenges. Better yet, a portion of all Gramble revenues go to the network's family of charity partners, meaning that no matter how a player's game turns out, everybody wins. Players can even pick who gets the money their playing generates.