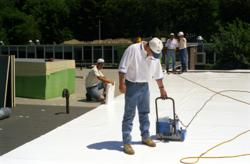 "It is an honor to have so many Sika Sarnafil green school projects recognized in Massachusetts," said Brian J. Whelan, Senior Vice President of Sika Sarnafil.
Canton, MA (PRWEB) December 04, 2012
Sika Sarnafil, the worldwide market leader in thermoplastic roofing and waterproofing systems, announced seven Massachusetts green school projects earned an elite award for healthy, high performance green school buildings from the Collaborative for High Performance Schools® (CHPS), the nation's first green building rating program developed specifically for schools. Compliance with the CHPS program demonstrates that a school has met one of the most stringent standards for green school design.
The seven schools recognized with Sika Sarnafil roofing systems were Abraham Lincoln Elementary School in New Bedford, MA; Beverly High School in Beverly, MA; Howe-Manning Elementary School in Middletown, MA; Manchester Essex Regional High School in Manchester, MA; Rochester Memorial Elementary School in Rochester, MA; Sharon Middle School in Sharon, MA; and Wayland High School in Wayland, MA.
Six of the seven schools feature the EnergySmart Roof® from Sika Sarnafil with a reflective, lacquer-coated surface that exceeds the cool roof requirements of ENERGY STAR®, California's Building Energy Code (Title 24), Green Globes® and LEED. The systems inhibit solar radiation heat flow from entering the building interior and reduce air-conditioning energy consumption. They also contain recycled content and have a documented history of superior performance and longevity.
The Wayland High School Field House features the Sika Sarnafil Decor Roof System, a system with minimal maintenance requirements with the aesthetics of metal roofs and the watertight integrity of hot-air welded thermoplastic membrane.
"We are pleased to help further CHPS's mission to ensure that every child has the best possible learning environment," said Brian J. Whelan, Senior Vice President of Sika Sarnafil. "It is an honor to have so many Sika Sarnafil projects recognized in Massachusetts and we look forward to continuing our local and national commitment to sustainable, green school design."
View this press release on our site: http://usa.sarnafil.sika.com/en/group/news/roofing-press-releases/chps-recognizes-ma-schools-with-sarnafil-roofs--.html
About Sika AG
Sika AG, headquartered in Baar, Switzerland, is a globally active company supplying the specialty chemicals market. It is a leader in processing materials used in sealing, bonding, damping, reinforcing and protecting load-bearing structures in construction (buildings and infrastructure construction) and in industry (vehicle, building component and equipment construction). Sika's product lines feature high-quality concrete admixtures, specialty mortars, sealants and adhesives, damping and reinforcing materials, structural strengthening systems, industrial flooring and roofing, and waterproofing membranes. Sika AG has subsidiaries in more than 76 countries worldwide and approximately 15,250 employees link customers directly to Sika and guarantee the success of all of its business relationships. With this business structure, Sika generates annual sales of CHF 4.556 billion. For more information about Sika Sarnafil in the U.S. including Canton, MA visit MA visit http://usa.sarnafil.sika.com/.