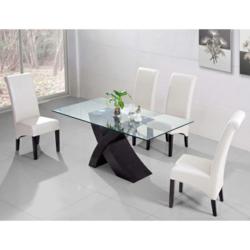 Styling your home with Modern dining table and chairs, FurnitureInFashion Launches it Xanti Wenge dining set with Luxurious leather dining chairs
(PRWEB UK) 2 December 2012
If contemporary and modern designs are the trademark of FurnitureInFashion, elegance is the end result of its designs. FurnitureInFashion yet again is extending its dining room furniture range with the launch of its exquisite and stylish Xanti Wenge dining table set with luxurious leather dining chairs. FurnitureInFashion is one of the leading suppliers of dining room furniture with extensive and versatile dining room modern and functional products. The addition of Xanti Wenge dining table is going to add further depth to FurnitureInFashion's extensive glass dining range. The company offers dining room table sets in glass, wood, oak, marble and high gloss with stylish and comfortable dining chairs. Xanti wenge dining table is a wonderful practical solution for any modern home and is now available in the online catalogue of FurnitureInFashion and in the company's showroom located in Bolton.
"We believe in customization," said the owner and Managing Director of FurnitureInFashion Asad Shamim. "FurnitureInFashion uniquely fuses different design concepts in order to offer customized and versatile dining table sets. Following this fusion concept, we have designed Xanti wenge dining table. We have combined a glass dining table with faux leather chairs in order to add chic and unique ambiance in any dining room. With this dining table, homeowners can décor their dining rooms flexibly with any décor theme."
Elegant and stylish modern dining table Xanti Wenge by FurnitureInFashion is a versatile and wonderful piece of dining room furniture. The dining table has a glass top in rectangular shape. Tempered clear glass has been used to provide extra support and durability. The rectangular shape of the table makes it a perfect addition for any modern dining room. The length of the table is 160 cm, width 90 cm and height 75 cm. The most striking feature of Xainti Wenge table is the x shaped strong wooden base in Wenge finish which makes the overall table very chic and elegant. Mr. Asad said, "We have used tempered glass so that you don't have to worry about your any scratch or damage to the table by rash handling. The strong support of wenge finish in X shape is to provide extra comfort as you dine with your family and friends."
Xanti wenge dining table set by FurnitureInFashion is available with 6 cream colored faux leather dining chairs. the 6 Parson faux leather dining chairs are available in white color in Xanti dining table and have wenge legs to provide balance and style. Mr. Asad said, "You can also find Parson faux leather dining chairs in black and brown colors as well. Depending on the theme you have used in your dining room and the most prominent color of your dining room, you can choose these chairs accordingly and create the ambiance of your choice." The measurements for Parson faux leather chairs include a width of 45 cm, diameter of 55 cm and height of 96 cm.
To match with the X style support of Xanti wenge dining table, customers can look for other matching furniture in X range. FurnitureInFashion offers 4, 6 and 8 seater glass, wooden and marble dining table sets. The company maintains extensive range of dining room furniture including dining table sets, sideboards, shelving units, separate chairs and separate dining table ranges.
About FurnitureInFashion
FurnitureInFashion is a UK based online retail business. It supplies furniture items from its German based warehouse and has a showroom in Bolton, UK. The company provides everything from umbrella stand wall art and room dividers to bedroom, bar stools and computer tables. FurnitureInFashion offers excellent free delivery within UK and has a fantastic customer service as well. For further information and details about the sale, visit http://www.furnitureinfashion.net