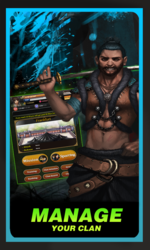 Murim Wars will bring the next innovative online game for smarthphones which follow our strategic direction. We believe, that Murim Wars is enabling all benefits of this new genre and offer a new smarthphone gaming experience to our customers
Schwalbach, Germany (PRWEB UK) 6 December 2012
eFusion GmbH is proud announce their next smartphone online game: Murim Wars!
The world is changing. Evil clans are trying to conquer the land with dark magic and powers, but there is still some hope left. Become the ultimate warrior and lead the people of Murim to their freedom!
Joining and founding clans, upgrading battle skills, and epic battles against rival groups: In Murim Wars, the player has full control over their destiny. One can use spells, ancient weapons with mysterious powers, or work with other clan members to become the mightiest clan in Murim!
The war has only just begun.
What exactly is Murim Wars?
In Murim Wars, players can fight their way up to become the strongest hero, guild or nation in Europe! Murim Wars is an online Role Playing game offering huge possibilities to upgrade characters and cooperate with other players all over the world to create guilds, or join existing clans and strengthen their position on the battlefield. Whether the player wants to join England, Germany or any other nation's forces to help them in global battle, or even assemble their own faction, anything is possible. The clan mode features a special chat and message board to communicate with other members and a unique battle system, where the player can attack rival clans, or defend their home base from other groups. The game will be available via Google Play, Apple Appstore and in all major virtual stores throughout Europe.
The release date is set for the 13th of December, 2012.
The following features can be found in Murim Wars:

Massively Multiplayer ONLINE Role Playing Game for Android
LIVE battles against players worldwide
FREE and Paid updates with new missions, weapons, techniques, spells, and more
Rare and powerful loot items and collectibles
Innovative Clan, Guild and contribution system
Custom player chat and message board
Live customer support
Community center, including web site and forum
The game will support the languages English and German.
"The Murim Wars will bring the next innovative online game for smarthphones which follow our strategic direction. We believe, that Murim Wars is enabling all benefits of this new genre and offer a new smarthphone gaming experience to our customers." said Dennis Hilgersom, the CEO of eFusion GmbH.
Facebook page: Murim Wars
Twitter: @MurimWars
About eFusion GmbH – publisher of the most successful mobile Real Time Strategy.
The company was founded in Frankfurt, Germany, in 2002 and has been growing steadily ever since. eFusion GmbH is a distributor of digital entertainment on mobile platforms. Our mission is to deliver exceptional, original and licensed, entertainment content on a wide variety of devices, to consumers around the world. eFusion GmbH is headquartered in Schwalbach / Ts., Germany with offices in Korea and France, serving a global distribution footprint. The company distributes a portfolio of product that boasts some of the biggest names in mobile entertainment as well as original properties with more than 3000 downloadable high-quality games and over 500 applications for Android and Java with new items being added on a daily basis. Also, eFusion recently launched the most successful RTS for android - Genesis, available via Google Play.