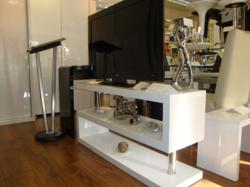 FurnitureInFashion's CEO says no price increases for 2013 despite all raw materials prices increased by manufacturers
(PRWEB UK) 3 December 2012
Good news for the customers of FurnitureInFashion as the CEO of the company announces that there will be no price increase for 2013 despite the increased prices of raw materials due to inflation and recession. This announcement came at a high time when people are looking forward to buy furniture for their homes by availing every sale opportunity. With this announcement, FurnitureInFashion has definitely developed confidence among the customers for year 2013, hence securing sales for another year as well. FurnitureInFashion is the leading online furniture retail store in the UK and is popular for offering every home solution at the cheapest possible price. In a limited time, the company has been able to establish confidence and immense repute with its quality products and reasonable prices.
The managing director and CEO of FurnitureInFashion Asad Shamim said, "FurnitureInFashion has been into business with the purpose of increasing the purchasing power of recession hit economy. We have always delivered quality furniture items at the most affordable prices so that homeowners can live with comfort after a long and tiring working day. Unlike other retailers who are increasing prices to compensate for the rising manufacturing costs, FurintureInFashion has maintained the same price level and aims to continue price affordability as a major feature of the company."
FurnitureInFashion offers the most extensive range of home furniture for living room, dining room, bedroom, bathroom, hallway and office along with other home accessories and lighting fixtures. The company is popular for offering the most extensive range of hallway furniture at extremely affordable prices. Mr. Asad Said, "We have worked tirelessly towards structuring our prices in a way that will allow us to earn perfect profit margin along with affordability for our customers. We have launched processes and streamlined our business operations in a way that has ensured minimum manufacturing cost with quality end product and reasonable price for the customers. We hope to continue with same business plan and achieve greater market share."
The affordability offered by FurnitureInFashion is evident from the fact that the business is now planning massive launches in form of flagship stores in Europe, Middle East and the USA. The retail store is also planning expansion in terms of its showrooms in different cities of the UK. Mr. Asad said, "With the beginning of new year, our customers are going to expect better and innovative modern furniture products. They will obviously be expecting reasonable prices as well. In 2013, we are going to launch several furniture collections in our living, dining and bedroom ranges with the promise to offer extremely affordable prices."
He added, "We are launching several new living room furniture collections in 2013. Our customers can conveniently place an online order with us without worrying about the prices because we are not changing the pricing structure. We are also increasing our dining room furniture collection ranges along with bedroom and hallway in order to refresh your house and give you more options to choose from."
FurnitureInFashion offers free home delivery service in the UK and warns the customers to ensure about the charges of this service as many retailers later charge for delivering. FurnitureInFashion is offering massive sales and discounts around Christmas this year. The company is also arranging Boxers Day sale with unbelievably affordable discounts and prices.
About FurnitureInFashion
FurnitureInFashion is a UK based online retail business. It supplies furniture items from its German based warehouse and has a showroom in Bolton, UK. The company provides everything from umbrella stand wall art and room dividers to bedroom, bar stools and computer tables. FurnitureInFashion offers excellent free delivery within UK and has a fantastic customer service as well. For further information and details about the sale, visit http://www.furnitureinfashion.net