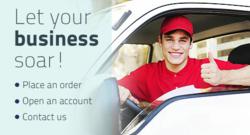 Atlanta, GA (PRWEB) December 03, 2012
1-800 Courier, a same-day courier specializing in national delivery and transportation services, announces commitment to weekly news and articles. The news articles are the company's efforts to increase website traffic, implement sound marketing practices and information their customers can enjoy. 1-800 Courier not only focuses on actual service, but also business marketing to advance the company within the courier industry.
The news articles and blogs will be available on the "News" page of the 1-800 Courier website. Customers and website visitors will enter the News page, which will have listed the latest 1-800 Courier news. 1-800 Courier will have the most recent, previous articles listed for customers to read as well.
1-800 Courier will provide news articles and blogs on a weekly basis that impact the courier industry. The courier company will also have news available regarding business trends within other industries, such as "Cyber Monday Sales Jump In 2012, Use Couriers For Online Same-Day Deliveries" and "Staple's Partners With Amazon, Could Staple's Use Couriers At Pick Up Points?".
1-800 Courier is a leader in courier, messenger and distribution services throughout the US. From small packages to palletized freight, the company provides same-day delivery to over 1,500 clients, including Fortune 500 companies. From their headquarters in Atlanta, Georgia, 1-800 Courier utilizes the latest in industry technology to provide superior customer service and courier solutions.