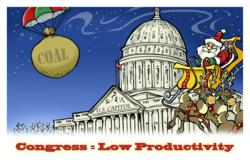 Dallas, TX (PRWEB) December 05, 2012
It's beginning to look a lot like Christmas… 'tis the season of the traditional seasonal greeting cards. Oh boy.
Allegiance Capital Corporation is well known for producing thought-provoking and humorous, festive greetings and this year was no different. Republicans, Democrats, and Independents all across the board share the same opinion – Congress' performance stinks. And since all parties agree (…pigs are NOT flying), Allegiance Capital Corporation seized the opportunity, and captured that sentiment in their 2012 holiday greeting card.
Allegiance Capital Corporation believes Congress deserves a BIG pile of coal for Christmas.
Congress' approval rating has hit an all-time low this year. One in ten (10%) Americans approves of the job Congress is doing (according to a Gallup Poll 8-14-12). As of August 2012 Congress has passed a whopping 79 bills for signature. The lowest recorded in history was in 1995 when 88 bills were passed.
All signs point to split party control of the institution, with the Republicans holding a majority in the House and Democrats having majority in the Senate. Not much has been accomplished.
Over the years, David Mahmood, Founder and Chairman of Allegiance Capital Corporation, has used cartoons to give insight into some of the problems that confront the privately held businesses that he represents and sells. Cartoon marketing has been an effective tool in breaking through the clutter of traditional messages: http://www.allcapcorp.com/wp-content/uploads/2012/04/Laughing-Your-Way-to-the-Bank.pdf.
View Allegiance Capital's cartoon library at: http://www.allcapcorp.com/humorous-side-ma.
About Allegiance Capital Corporation
Allegiance Capital Corporation is an investment bank specializing in financing and selling businesses in the lower middle market. Allegiance Capital Corporation was recently named third on the list of 2011 Largest Investment Banking Firms in North Texas (Dallas Business Journal). Allegiance Capital Corporation has won multiple awards recognizing the value it delivers to clients. Examples include: 2009 Dealmaker of the Year (Dallas Business Journal), 2008 Boutique Investment Bank of the Year (M&A Advisor), and 2006 Investment Bank of the Year (Dallas Business Journal). Subscribe to the Capital Ideas blog by visiting: http://www.allcapcorp.com/blog. Follow Allegiance Capital Corporation on LinkedIn and Twitter: @ALLCAP.