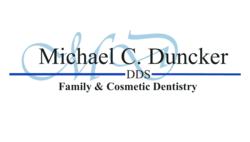 Downey, CA (PRWEB) December 01, 2012
Dr. Michael C. Duncker utilizes the latest teeth whitening procedures to give patients the white teeth they are looking for. A patient's smile is a very important aspect of his or her personality, and many people desire whiter teeth. There are many over-the-counter products that can be utilized, but those available in the office of a cosmetic dentist are generally safer and more effective.
One of the biggest differences between the over-the-counter strips, gels, trays, rinses and toothpastes that are available and the products offered by a cosmetic dentist is the strength of the bleaching agent they contain. In general, professional dental products contain between 15 and 43 percent carbamide peroxide where the others only contain between 10 and 22 percent of this bleaching agent. Another difference is that although any whitening or bleaching agents may cause sensitivity or irritation, when the procedure is overseen by a dentist, there are measures that can be taken to reduce the problem and protect the gums and teeth.
Dr. Duncker offers both the tray-based teeth whitening procedure and the in-office procedure. Patients who opt for the tray-based procedure will be fitted with trays that are completely customized to their teeth. The dentist will take impressions of the mouth in order to produce trays that fit perfectly. He then provides the patient with a bleaching solution that is put in the trays and applied to the teeth. The customized trays allow the bleaching agent to evenly contact the teeth without leaving gaps like generic trays can. The trays are worn either for an hour or two during the day or through the night for a period of time that depends on the level of teeth whitening that is desired.
The in-office procedure lasts anywhere from 30 to 60 minutes and is the fastest road to whiter teeth. A special bleaching agent is applied to the teeth by the cosmetic dentist and then cured with a laser light. Results are immediately noticeable. Depending on the level of whitening desired, more than one appointment may be necessary. The dentist works with patients individually to determine the best method of whitening. More information about white teeth can be found at http://www.downeylanap.com.
Dr. Michael C. Duncker Family and Cosmetic Dentistry is a general practice offering patients personalized dental care for Downey, California, and Dr. Duncker has been practicing dentistry for over 30 years. Dr. Duncker received his BA from USC and his dental training from UCLA. He is part of one percent of dental professionals providing the most recent FDA cleared laser procedure for gum disease and periodontal treatment. To learn more about Dr. Michael C. Duncker Family and Cosmetic Dentistry and their dental services visit their website at http://www.downeylanap.com and call (562) 287-5244.