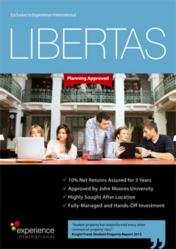 "UK student accommodation performed well over the last
5 years, showing average annual total returns
outperforming many commercial property asset classes," Savills Spotlight on Student Housing, 2012
(PRWEB) December 05, 2012
According to the NUS (National Union of Students) Accommodation Cost Survey 2012/2013, private sector student accommodation now controls 39% of the current supply of UK student rooms, which equals a 22% rise over the last 3 years.
The survey, which was conducted over 81% of student accommodation providers, showed an in-depth look into student property trends and the rising cost of living.
Why has private student property increased in popularity?
Student property investment has evolved into a key asset class over the past 5 years with UK transaction volumes reaching £2 billion in the first 9 months of 2012, up by 145% on 2011 (CBRE UK Student Housing MarketView).
In light of this investment, the NUS has commented that, 'Funding for new student accommodation developments has been available because of a general view among investors that the yields from what is now almost a separate asset class outperform yields in other commercial property sectors'.
With an increase in demand for student accommodation investment opportunities from institutional and individual investors, the private accommodation sector has increased its market share in the UK.
A survey by UCAS, which tracked the growth of private sector student accommodation for ten years, also stated that in 2003-04 96% of all purpose-built student accommodation was institutionally owned and managed however, in 2012-2013, the private sector formed 39% of the market supply.
It also revealed that in 2012-2013, private providers will account for 79% of new bed spaces; 58% of which will be directly let into the market and 21% will be covered by nominations agreements.
The Future of Student Property Investment
The way in which students' view halls of residence has also changed over the past ten years. Typically, purpose-built student accommodation would accommodate first year students however, because of the mod cons and high spec of new build rooms, a rising amount of students are returning to halls of residence and more so purpose built shared student accommodation built by private providers after their first year of studying.
The NUS survey also has highlighted that, 'Private providers clearly accommodate a greater number of returners: 40% Let 26-50% of their stock to returners (compared with only 14% of education institutions) and a further 8% house between 51-75%'.
With an increase in the amount of overseas applicants to UK universities (13.7% Rise recorded by UCAS in Jan 2012), a lean towards attracting international students has also had a positive impact on the private student accommodation sector, with many new-build developments specifically aimed towards foreign tenants.
As investment in the private sector continues to rise due to the sector's ability to generate high and sustainable yields for investors, private providers will continue to increase their market share in line with demand from a growing amount of students looking for new, purpose-built rooms.
New investment opportunity in Liverpool
For investors interested in student property investment in the private sector, London-based property agent, Experience International has just launched a new investment opportunity in the heart of Liverpool.
Large 25 Sq. M self-contained studio apartments with kitchenettes are on offer for £59,950 and will provide investors with 10% NET returns P.A. - Assured for 3 years.
"We're pleased to launch a new student property investment in Liverpool with the largest self-contained studios currently on the market," Steven Worboys, MD of Experience International stated.
For further details contact Experience International by calling + 44 (0) 207 321 5858 or go to the website to request the investment brochure.