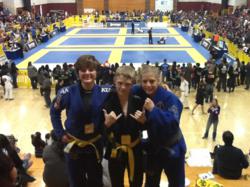 "They work on homework with the instructors and enjoy a 45 minutes martial arts class everyday going over effective self-defense." - Instructor Devon Delbrugge
Ellicott City, MD (PRWEB) December 03, 2012
This month Crazy 88 Brazilian Jiu-Jitsu, adds Centennial Lane Elementary School among the list of school in Howard and Anne Arundel Counties for pickup and transport to ther Aftercare Martial Arts program.
The Crazy 88 Brazilian Jiu-Jitsu staff will now conveniently pick up student at Centennial Lane Elementary School and provide them with a balance of academic and athletic aftercare at their 15,000 square foot martial arts facility.
Upon arriving at the academy, the college educated staff will tutor them through homework. Once school work is completed, the students will train in Mixed Martial Arts taught by world class instructors. All the instructors at Crazy 88 Brazilian Jiu-Jitsu have professional and international level experience in Brazilian Jiu-Jitsu, Muay Thai Kickboxing, and Mixed Martial Arts.
"They work on homework with the instructors and enjoy a 45 minutes martial arts class everyday going over effective self-defense," explains Devon Delbrugge, instructor and the 2012 No Gi Jiu-Jitsu World Champion. "And they get to have fun and build friendship with their teammates."
In business since 2005, Crazy 88 Brazilian Jiu-Jitsu has an amazing track record of turning children into champions. As a member of Team Lloyd Irvin, Crazy 88 is a part of the best Youth Brazilian Jiu-Jitsu team in not only America, but also the World.
If you have a child that attends Centennial Lane Elementary School and would like to learn more about Crazy 88 Brazilian Jiu-Jitsu's Afterschool pickup program please visit the website - http://www.BaltimoreMixedMartialArts.com