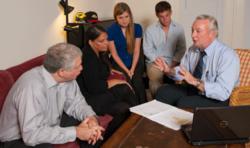 The scariest thing about going to prison is what you don't know
Baltimore, MD (PRWEB) December 11, 2012
Former federal inmate Brian Satisky has launched an "industry unique" prison consulting firm headquartered in Baltimore. Prison Acclimation & Family Consulting (PAF Consulting) not only assists the client with familiarizing and adjusting to prison life, but additionally focuses on the needs of the family and loved ones left at home throughout the prison experience.
For more than 30 years, Brian Satisky was a well known professional in Baltimore's check cashing and financial services industry. As co-owner of A&B Check Cashing he and his brother Alec revolutionized the local industry, eventually expanding to 20 locations throughout the Baltimore Metro area. In 2006, the business was forced to close after the sudden and tragic death of Alec Satisky amid allegations of wrongdoing involving banking procedures. In 2009, Brian was indicted and eventually pleaded guilty to one count of bank fraud, bringing him a 36 month sentence at the Federal Prison Camp in Cumberland, Maryland. He served 17 months at FPC Cumberland and 3 months at a halfway house in Baltimore City before his release to home confinement and eventual freedom.
Satisky's unique and personable style brings the prison experience to the client and his family in a clear, easy to understand consult, usually in the comforts of one's home or office. Family and friends are encouraged to take part in this all important meeting so that they can be familiar with both the material and emotional needs of the client after incarceration has taken place. Every aspect of prison life is thoroughly examined as the client is given detailed firsthand knowledge on topics ranging from living conditions, hygiene, employment, social adjustments and much more. While the average consultation ranges from 6-8 hours, no consultation is complete until all questions have been answered.
Another exclusive service that PAF Consulting offers is the aftercare for the client's family. Licensed therapists and counselors are on staff to deal with the emotional issues of bitterness, resentment, embarrassment and trust that are commonly brought on by a family member going to prison. This may include the spouse, partner, children, parent or anyone else emotionally affected by the separation. A series of counseling sessions are included in the price of the primary consultation.
PAF's emergence in the industry of prison consulting is bound to be trend setting with it's personal and sensitive approach to the devastation brought on by the prison experience not just to the felon, but to the family as well.
Brian Satisky is also available for speaking engagements and expert commentary relating to white collar crime and punishment.