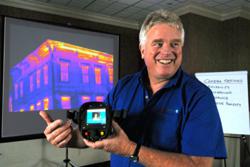 Barre, Vermont (PRWEB) December 02, 2012
The Snell Group will be attending and exhibiting at the 2013 RESNET Building Performance Conference, February 27- March 1, in Orlando Florida. The conference will be held at the Orlando Word Center Marriott. Please stop by booth # 829 to ask any infrared thermography question you may have and to learn more about our training. For a detailed map of the expo hall please go to the RESNET website.
In addition to exhibiting, The Snell Group will be hosting a pre-conference session. Please consider joining us for Matt Schwoegler's session, IR for Weatherization & Energy Audits, February 25-26. This two-day class is designed for energy auditors, weatherization contractors and home performance professionals who use thermal imaging or are considering adding the technology to their program.
IR for Weatherization and Energy Audits will meet the needs of any building thermographer that is using infrared to inspect residential buildings for insulation defects, air leakage problems and moisture related issues. Courses are open to all models of thermal imaging equipment. There are several hands-on simulations and exercises built into the course. While having an infrared camera is not necessarily required for attendance, it is strongly suggested that participants who own a thermal imager bring it to get the most out of the course. Completion of this course prepares students to successfully apply infrared technology to residential energy audits.
The pre-conference session, IR for Weatherization & Energy Audits, is approved through BPI for continuing education credits. T he course is offered at a special pre-conference discount and seats are limited. For details, and to register for the course, please visit the registration page or call 1.800.636.9820 (toll-free in the US or Canada) or +1.802.479.7100 .
Founded in 1986, The Snell Group offers training, certification, inspection, and consulting services for IR and MCA professionals and their programs world-wide. Throughout the company's history, The Snell Group has helped thousands of companies, both large and small, to reduce risk, increase uptime, save money, conserve energy, and improve safety. Their client list is diverse and includes companies such as DuPont, American Electric Power, Southface, and NASA.