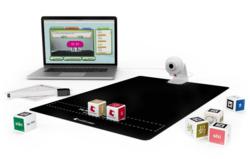 Not only is it a tool that has never been seen before, but it truly applies the teaching philosophy of 'student-centered' education.
New York, NY (PRWEB) December 04, 2012
ChineseCUBES will hold an official press conference next week, on December 6th, 2012, at the Sofitel Hotel, 45 West 44th Street, New York, NY 10036, to formally introduce and demo its innovative language learning program to the US media and the public.
The press conference will be hosted by Rex How, founder and chairman of ChineseCUBES, and will start promptly at 2:30 PM in the 2nd Floor Meeting Room Trocadero.
In addition to a live demo, there will be an official announcement made at the press conference about ChineseCUBES winning the iF Communication Design Award 2013.
ChineseCUBES and Rex How invite all interested members of the press to attend. RSVP to chairman@chinesecubes.com or call (212) 677 – 7018, preferably by December 5th, 2012.
What people have said about ChineseCUBES:
"ChineseCUBES acts as a bridge for beginners to cross the chasm of intimidation when learning Chinese, especially in reading and writing Chinese characters."
-- Wang Shuhan, former Deputy Director of the National Foreign Language Center, University of Maryland
"ChineseCUBES approach emphasizing the learning of characters does a great job allowing language learners to understand the uniqueness and structure of the Chinese language."
-- Dr. Joël Bellassen, Inspector General in the field of Chinese Language Teaching at the Ministry of Education (France)
"Not only is it a tool that has never been seen before, but it truly applies the teaching philosophy of 'student-centered' education."
-- Chih-Ping Sobelman, former Coordinator of Chinese Language Program at Columbia University
ABOUT ChineseCUBES
Conceptualized in 2009 and founded in 2010 by devoted publisher Rex How, ChineseCUBES started as a challenge, and later a mission, to improve and revolutionize Chinese language education around the world. While observing the increasing demand for learning the Chinese language globally, Mr. How found that the learning materials currently available were lacking and dull. He was determined to find a much easier and effective way to learn the language, and that was how the ChineseCUBES concept was born.
Utilizing a new concept, new approach, and Augmented Reality (AR) technology, the ChineseCUBES learning program creates a never-before-seen multisensory learning experience that makes learning Chinese fun and easy. Anyone interested in learning Chinese no longer needs to be intimidated by the thousands of characters in the language. With only 200 characters to begin with, ChineseCUBES aims to provide learners with a basic yet strong foundation in the language. It was designed for beginners of all ages, and is especially great for anyone who wants to learn but has no previous background in the language.
The company is headquartered in Taipei, with offices in New York and Beijing, The ChineseCUBES team consists of a diverse group of language experts and learners, technology fanatics, designers, culture enthusiasts and educational advocates. Its mission is to deliver innovative and entertaining products, programs and services that would inspire and encourage the learning and understanding of Chinese language, lifestyle and culture.
Learn more at http://www.chinesecubes.com or watch a video clip at http://youtu.be/NqC51vLE5cY