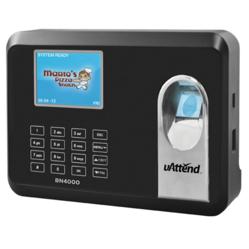 It is a huge honor to be recognized as a finalist among so many great CEOs. San Diego has a truly remarkable business community, which I'm lucky to be a part of.
Chad Buckmaster
Carlsbad, CA (PRWEB) December 01, 2012
ProcessingPoint's CEO, Chad Buckmaster, is among a select list of honorees for the San Diego Business Journal's 6th Annual Most Admired CEO Awards. The San Diego Business Journal (SDBJ) evaluates local CEOs based on their leadership, innovation and overall contributions to the community. Buckmaster was nominated for his efforts toward corporate growth and continued innovation with services such as uAttend, the country's fastest growing cloud-based time and attendance tracking solution.
uAttend offers affordable and reliable time tracking solutions with advanced systems such as biometric fingerprint time clocks and web-based time and attendance software for workforce management. Its parent company, ProcessingPoint, Inc., is a leading provider of payroll processing, payment processing, web-based marketing solutions, and niche Software as a Service (SaaS) applications for small and medium sized organizations. Buckmaster oversees these day-to-day operations, setting his goals on future technology and services that will further enhance and streamline business administration processes.
As a 2012 finalist, Buckmaster joins top chief executive officers from all across San Diego and from every industry. Fellow honorees include service organizations, hospitals, non-profits, financial institutions, food and beverage services, and tech companies. All finalists will be honored at an awards ceremony Thursday, Dec. 6, 2012 in downtown San Diego.
"It is a huge honor to be recognized as a finalist among so many great CEOs," said Buckmaster, who founded ProcessingPoint in 2005. "San Diego has a truly remarkable business community, which I am lucky enough to be part of. However, it goes without saying that this acknowledgement is a direct result of the efforts and support of everyone involved in the ProcessingPoint family."
With a focus on technology and innovation, ProcessingPoint continues to be a driving force for cloud computing, especially with its successful time and attendance system. uAttend features a robust product line that allows employees to punch in and out of work using a fingerprint timeclock, a facial recognition time clock, or a proximity reading time clock. Employees can also punch in using a Web page, telephone or smart phone application making it one of the most desirable employee time management systems available today.
If you would like more information about a uAttend time clock system, please call 800-518-8925 or visit the corporate website at http://www.uattend.com. uAttend is located at 2796 Loker Ave., Suite 111, Carlsbad, CA 92010.