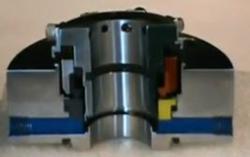 World's Only cGMP Mechanical Seal that will will not shriek or squeal.
Boston, MA (PRWEB) December 04, 2012
Sanitary squeal-less single dry running seals are available for biotech and pharmaceutical mixers and agitators.
White Mountain Process is supplier of sanitary mixer seals and agitator mechanical seals.
A typical mechanical seal for an aseptic mixing and blending process has FDA and USP VI elastomers, seal faces, and polished 316Lss housing and aseptic debris well to protect any shedding of seal face particulate into batch.
In humidity controlled bio-pharma suites, the mechanical seal faces can squeal and make noise.
With the proper seal facesthat noise is elimintated, and mixer mechanical seal can run quiet.
A video shown on http://www.wmprocess.com shows a working installed mechanical seal with a shaft running at 600 rpm.
This is a squeal-less seal design, and biopharma mixer ready. Single dry run agitator seals typically run in the 25-600rpm range up to 100psig and FV, without the need for a liquid or nitrogen flush system. Operators and management applaud these quiet mechanical seals, as now the mixers can provide the agitation required with seals that do not squeal and make excessive noise.