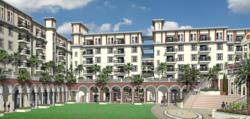 We are at the beginning of a fundamental shift in the way apartments market themselves.
Dallas, TX (PRWEB) December 03, 2012
Modern Message LLC announced today that GHP Management has hired the company to lease up their new student housing property, The Lorenzo, through social media.
"We are very excited to work with GHP and The Lorenzo. Our social media lease up solution has been proven to energize prospective residents to share information to their friends about the property, and increase the number of qualified leads," said John Hinckley, CEO of Modern Message. "Launching our program with a student housing community as large as The Lorenzo is a exciting opportunity for our company."
The Lorenzo is a mixed use student housing development that is currently pre-leasing for the fall of 2013. Upon completion, The Lorenzo will have a total of 913 units and 3,648 beds making it the largest student housing development currently in the United States.
"We are at the beginning of a fundamental shift in the way apartments market themselves," said Hinckley. "Whether it's during the lease up phase or after, marketing managers are looking for ways to source their own leads rather than relying on traditional methods like apartment locators, agents, and the crowded ILS's. Modern Message provides an end to end solution that not only drives excitement for the residents, but also loyalty and value for the apartments that we track through our system."
About Modern Message, LLC:
Modern Message is the creator of "Community Rewards" – a social referral solution that enables property managers to increase the engagement, reach, and ROI of their social media presence. The company works with property management companies of all sizes across the United States in both conventional and student housing. Modern Message, LLC is based in Dallas, Texas.
For more information, visit http://www.modernmsg.com.
About The Lorenzo:
Lorenzo is the newest upscale student housing community in Los Angeles, CA, that offers a modern furniture package, stunning city view. 4 resort swimming pools, 5 rooftop sundecks, 2 indoor basketball courts, 5 libraries with computer labs and study rooms, or 3-story fitness center with climbing wall, running track and cardio room. Come see why Lorenzo is the most talked about community at the University of Southern California.