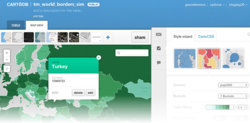 The usage of CartoDB has really let us make things more interactive, and allows for more exploration of the data. With CartoDB, it now becomes a lot easier to spatially see data and observe things. - NREL
New York, NY (PRWEB) December 04, 2012
This Thursday, November 29th, 2012, Vizzuality, Inc. released version 2.0 of its cloud powered database, mapping, analysis and visualization engine, CartoDB.
With this release, CartoDB takes a huge leap forward in making spatial data visualization more intuitive and brings powerful new data import, analysis and visualization capabilities to its users.
New visualization styles such as grid and density maps supplement the choropleths and bubble maps from the previous version; all now possible with just a few clicks. A revamped interface, easily customizable basemaps, and straightforward ways to integrate data into applications, facilitate ease of use, and an overhauled code editor makes writing SQL and CartoCSS more natural and new controls for infowindow and embedded map styling let users really take the reigns.
However, changes in 2.0 are not just cosmetic. Considerable work has been put into making the platform faster and more scalable. This includes integration with content delivery network caching services, providing customers with the fastest maps, and new API libraries to ensure all around better performance and usability. Behind the scenes, the platform has been made more flexible and now allows Vizzuality to seamlessly add new data visualization methods in the coming months. Torque, the temporal mapping library developed for CartoDB, is one of the first slated to be integrated as a point and click option.
The platform also gives developers a geospatial backend to easily build applications and visualizations. Whether by using the platform's built in sharing functions to include a visualization in a news app or blog, or by using the platform's APIs to integrate geospatial data into mobile or tablet apps, the simplicity of using CartoDB remains unbeatable.
With version 2.0, CartoDB aims to take interactive, dynamic data visualization and mapping to the next level. Based on a new architecture and faster performance, CartoDB is the foremost cross-browser, iOS and Android compatible, data visualization platform.
And with the company already boasting clients such as The Wall St. Journal, Harvard University, NASA, and the UN, version 2.0 is definitely slated to make a splash.