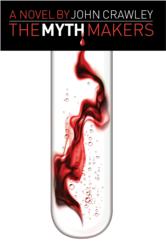 "As I read (The)Myth Makers I wanted to pull down the window shades – afraid someone-government or big oil and gas, might see me reading and hire a hit man to take me out. The book is THAT real."
-C. Bradford–Brownsville, Texas
Dallas, Texas (PRWEB) December 04, 2012
Author John Crawley announces his new novel, The Myth Makers, has been published by Venture Galleries and is available in eBook format at Amazon.com, Barnes and Noble and in hard copy at LULU.com.
The Myth Makers, Crawley's 11th novel and 4th with Venture Galleries, is the electrifying story of a veteran reporter who uncovers the long-ago-forgotten mysteries surrounding one of America's biggest energy myths. The Myth Makers is a novel based on diametrically opposing forces: Some people will do anything for a story, while others will do anything to keep that story from being told.
The Myth Makers Synopsis
In the 1970's, when energy was cheap and gas lines years in the future, three engineers in the New Mexico desert discover a secret hiding in the molecules of oxygen and hydrogen compounds. As they work to decode this secret, they find that the laws of physics prohibiting a perpetual motion device may not be carved in stone. The results cost one engineer his life, sentence another to a lifetime in hiding, and condemn the third to play dumb for the last thirty years of his life.
The Myth Makers asks the questions: Had these engineers built the ultimate free energy machine? Or was theirs just another hoax perpetrated by brilliant con men? Reporter, Jack Lawrence, the novel's protagonist, must answer these questions to get his article into print. Also facing him, the impending demise of his own publication. Is this story big enough to save the newspaper? Or are these secrets too dangerous to reveal?
Join Jack Lawrence and his team as they try to crack the code of one of America's most lingering and haunting myths. Watch them work against the clock and against each other to get the story. The Myth Makers is based on rumors that are still whispered throughout the high deserts of New Mexico, West Texas, and along the corridors of some very large energy companies.
About John Crawley
John Crawley is a Dallas, Texas-based writer. A graduate of the University of Texas at Austin, Crawley is the author of the award-winning novels, The Man on the Grassy Knoll, Stuff and Beyond a Shadow of a Doubt, as well as his popular serial novel, Dream Chaser. Visit johncrawleybooks.com
What other authors are saying about The Myth Makers:
"This is a work of fiction. Maybe. Or is it? The line between legend and reality is crossed so seamlessly and cleverly that the reader is delightfully never quite sure. And in the end…well, there lurks a real brain twister, to say the least."
-G. Brahl-Dallas
"The Myth Makers isn't just a page-turner, although it's certainly that. And it's not just another mystery, although it more than pays off the genre's requisites. Intrigue, double-crosses, high stakes? Check, check, and check. Plus a protagonist, Jack Lawrence, a journalist for a top newspaper in the country, who is flawed enough to relate to, smart enough to keep readers off-balance, and funny enough to make you laugh out loud more than once."
-S. Phillips–New York City
"As I read (The)Myth Makers I almost wanted to pull down the window shades and hide – afraid someone, notably someone from the government or big oil and gas, might see me reading and hire a hit man to take me out. The book is THAT real."
-C. Bradford–Brownsville, Texas
# # #