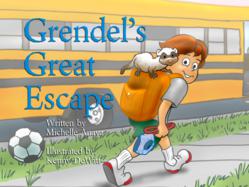 I'm intrigued by Grendel's Great Escape. It reads like an action comic book. A lot of fun! Also funny and unique.
Dallas, TX (PRWEB) December 01, 2012
Blue Sandpiper Imprints enthusiastically enters the app market with it's relatable story Grendel's Great Escape, an interactive book app for children ages 4-8yrs. Established in April '12 to publish visually stimulating interactive picture books & apps with the goal of encouraging more voluntary reading among children.
This digital story introduces Martin, a messy little boy and his pet ferret Grendel. On each page readers discover hidden sounds and interactive objects. Features include Read to Me, Read By Myself options, and loads of fun interactive animation and sound. Available globally for use on i-pad, Nook color, Kindle fire and Android tablets
The app will be highlighted by an original musical score by the award winning composer Mark Henderson internationally recognized for his musical compositions for theatre, film, television, radio & book apps.
About the Author
Michelle Anaya - Blogger, Freelance Writer and Textile Print Designer. As the mother of two boys, she noticed that past the age of five, their interest in books wained, gravitating instead to electronic games due to the action and sound. The interactivity of book apps however, kept them engaged. The importance of encouraging reading among Children, lead to her decision to create the Grendel's Great Escape book app. Michelle is also the Author of Monster Jam, a book and app currently in production.
For more information: http://www.bluesandpiper.com